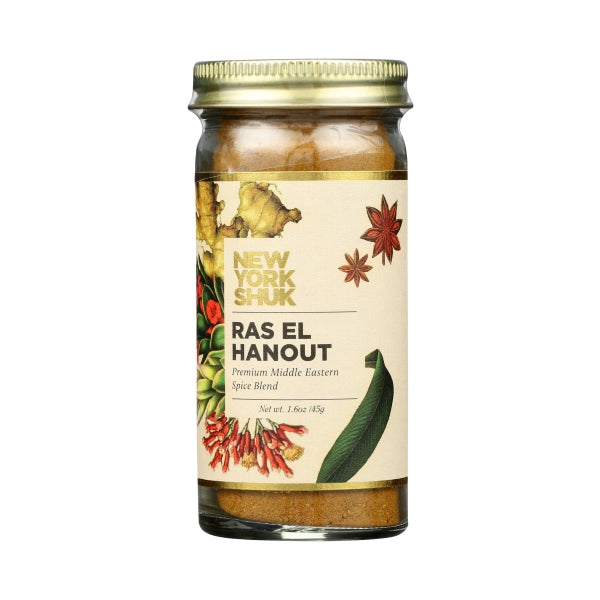 Back to New York Shuk
Ras El Hanout from New York Shuk
Regular price $12.95 Sale
In Stock
Moroccan Spice Blend Made in Brooklyn, New York
Ras el hanout is a pungent and warming spice blend ubiquitous throughout North African cuisine, especially in Moroccan cooking. No two recipes for this spice mix are identical and often vary according to region. New York Shuk's Moroccan-inspired version features a blend of ground coriander seeds, ginger, clove, black cardamom and turmeric. Heady and aromatic, use this ras el hanout to add dimension to marinades, soups, dips and even drinks.
How to use
Commonly used to flavor stews, ras el hanout's versatility stretches beyond the tagine. Use New York Shuk's ras el hanout as a ready-made spice rub for salmon, chicken or lamb before it hits the oven or grill. Swirl into simple yogurt dips or mix with Sesame Premium Tahini from Soom to create a spiced sauce to drizzle over roasted vegetables or salads. Make hot chocolate even cozier with a dash of ras el hanout or simmer this blend with equal parts water and sugar to make a spiced simple syrup for iced coffee or cocktails.


About the producer

Shuk means "market" in Hebrew. For Ron and Leetal Arazi, chefs and founders of New York Shuk, the bustling outdoor Israeli markets represent the intersection between culture and community, two values they wish to share through their products. Based in Brooklyn, New York, the husband-and-wife team draw culinary inspiration from their combined Jewish, Moroccan, Lebanese, Turkish and Eastern European heritages to create vibrant pantry staples to enhance everyday cooking.
More Info
Producer
Country

United States
Region

New York
Size

1.6 oz - 45 g