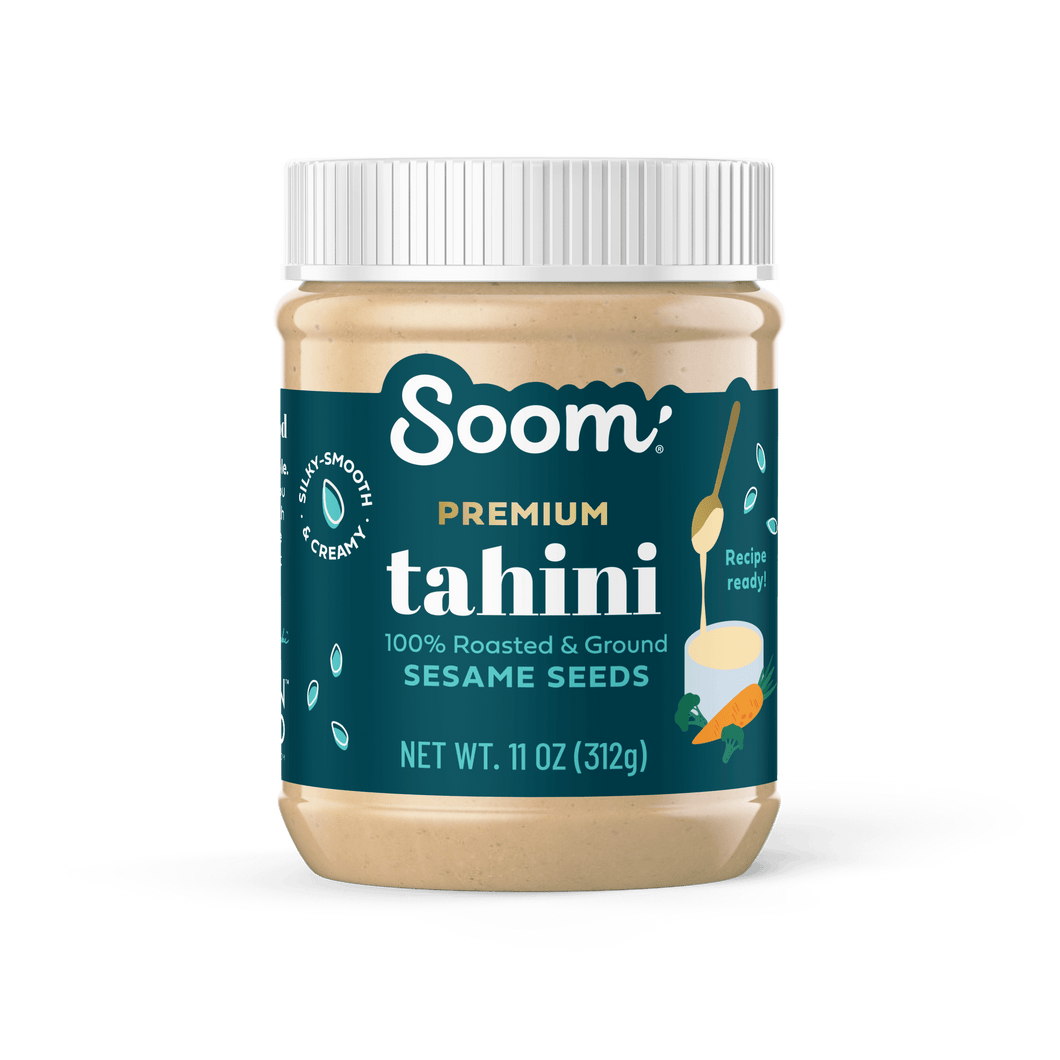 Back to Condiments
Sesame Premium Tahini from Soom
Regular price $9.95 Sale
Out of Stock
Single-Sourced Origin Tahini Made with White Humera Sesame Seeds
Soom's Sesame Premium Tahini is only made with one ingredient: White Humera sesame seeds—no added oils or fillers, just 100% sesame seeds. This tahini captures the pure essence of the sesame seed. It's rich and silky with a lingering toasty nuttiness. 
Soom's tahini starts with single-sourced origin sesame seeds from Humera, a town in the northwestern Tigray Region of Ethiopia. At harvest, the sesame stalks are harvested by hand and the seeds are shaken out, collected and sent to Israel to be made into tahini. The seeds are roasted before they are pressed into tahini, which gives Soom Sesame Premium Tahini its deep nutty flavor.
Looking for something a little sweeter? Try Soom's Chocolate Sweet Tahini Halva Spread.
How to use
Go beyond the hummus bowl—Soom Sesame Premium Tahini can be used for both savory and sweet preparations (though it does make for a creamy, dreamy hummus if we do say so ourselves). Tahini adds a rich, nutty depth to salad dressings, dips, sauces and soups.
Want to satisfy your sweet tooth? Tahini makes a beautiful addition to baked goods and desserts from shortbread cookies to buttercream frosting. 
About the producer
Soom Foods is a Philadelphia-based, all-women-owned company that was founded by three sisters—Shelby, Jackie and Amy—in the pursuit of truly transcendent tahini. Their vision: To make tahini a staple in the American pantry because it is a delicious, nutritious and versatile ingredient.
Their tahini has gained national recognition from Saveur, Food & Wine, Bon Appétit, The New York Times, The Kitchn and more. Not to mention, Jackie and Amy graced the Forbes 30 Under 30: Food and Drink list in 2018.
Featured in these recipes:
More Info
Producer
Country

United States
Region

Philadelphia
Size

11 ounces
Excellent
We love the tahini. Makes our hummus recipe have the best flavor.