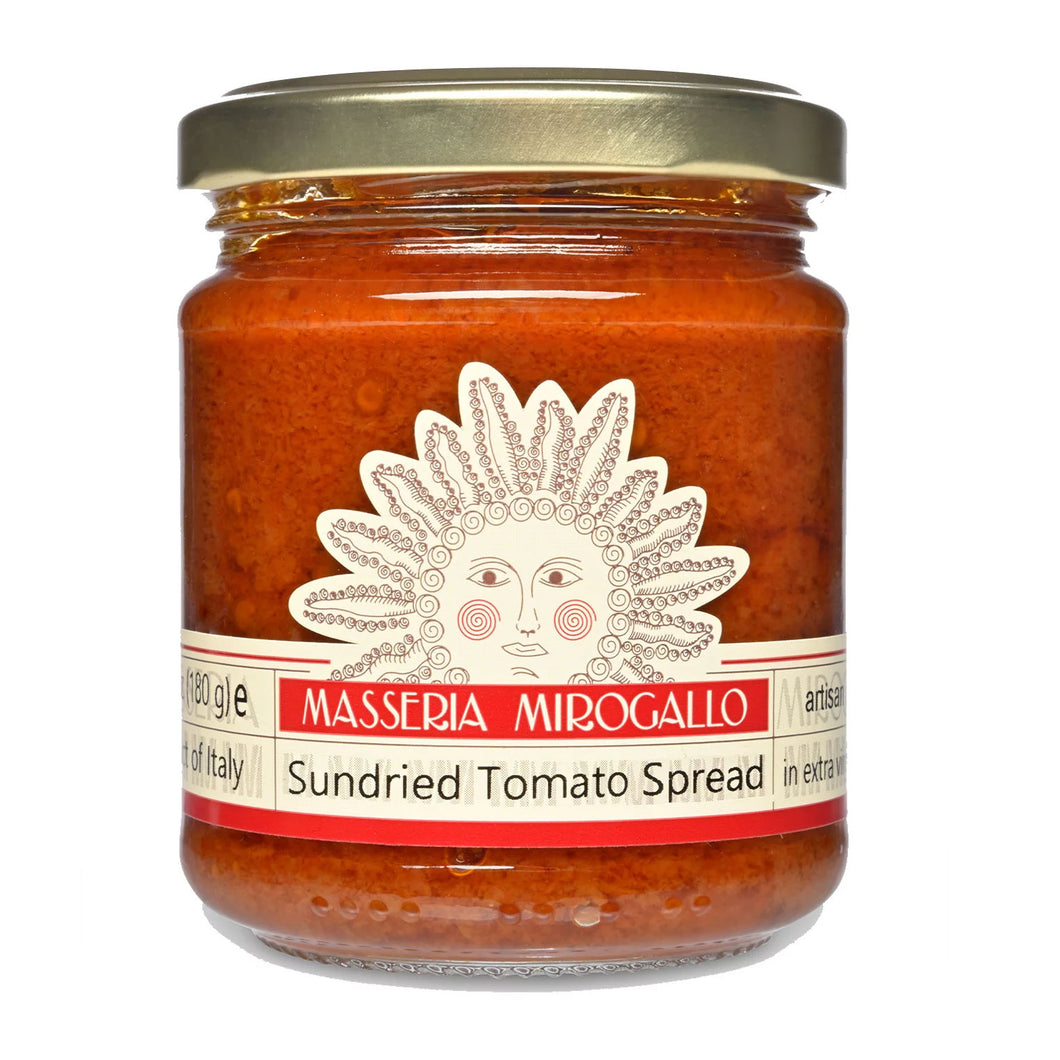 Back to Antipasti
Sundried Tomato Spread from Masseria Mirogallo
Regular price $12.95 Sale
In Stock
Think of this Sundried Tomato Spread as an ultra-concentrated, thicker and more textured tomato paste that you can both cook with or enjoy on its own. To make this one-of-a-kind spread, the Belfiore family behind Masseria Mirogallo takes their hand-made Sundried Tomatoes and blends them with their own extra virgin olive oil and a splash of white wine vinegar which lends a well-rounded, balanced bite. This cross between meaty, umami-rich sundried tomatoes and easy to use, convenient tomato paste provides a handy boost to all kinds of cooking. 
How to use
Slather Sundried Tomato Spread right on to sandwiches, crostini crackers or toss with warm pasta for an easy weeknight dinner. We also sometimes swap it in for standard tomato paste, adding spoonfuls to soups and stews, salad dressings and marinades for extra flavor. 
About the producer
Since the 1800s, one of the largest farms in Lucana Valley of Basilicata, Italy has been owned by the Mirogallo family, who specializes in the cultivation and preservation of heirloom varieties of fruit and vegetables from which they hand-make very high quality pantry products. The Mirogallo brothers are quick to point out that everything they put in a jar comes from their fields, and that the only preservatives they use are vinegar and salt. Every summer, the Mirogallo farm is bustling with many farm-workers hand harvesting perfectly sun-ripe fruit and vegetables. Inside the old white washed farm building, a state-of-the-art kitchen transforms the bounty of every day into a wide array of jars of all color and sizes.
More Info
Producer
Country

Italy
Region

Basilicata
Size

6.34 ounces (180 grams)