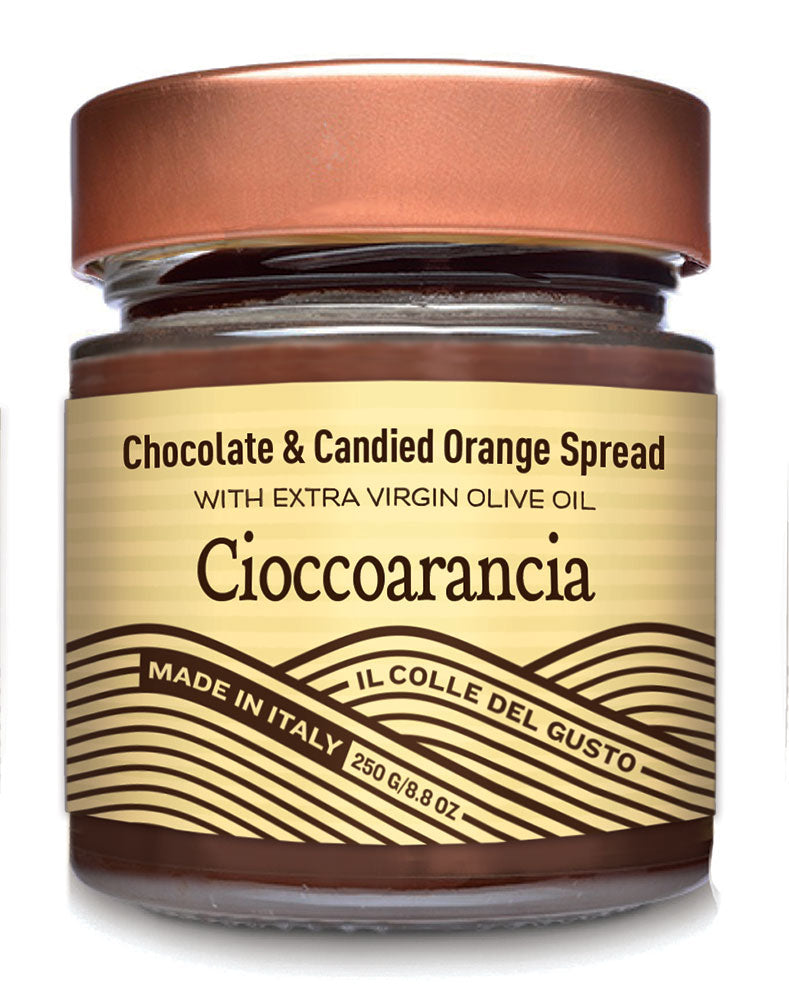 Back to Dessert Sauces & Spreads
Cioccoarancia from Il Colle del Gusto
Regular price $15.95 Sale
Out of Stock
Italian Chocolate Hazelnut Spread with Candied Orange Peel
Calling all chocolate orange lovers! Il Colle del Gusto's Chocolate Orange Spread is a sumptuous combination of bittersweet chocolate, Italian hazelnuts, candied orange peel and a touch of orange extract. This luscious spread—like all of their dessert spreads—is made with Italian extra virgin olive oil giving it a glossy sheen and silky, velvety texture.
How to use
Il Colle del Gusto's Cioccoarancia is stunning simply slathered on a piece of toasted brioche . . . or let's be honest, straight out of the jar. But if you can put down the spoon, it is an amazing addition to both baking and sweet preparations—use it instead of jam to make out-of-this-world thumbprint cookies, swirl into vanilla gelato or combine with mascarpone cheese and beat until smooth for a creamy chocolate orange cake filling.
For the adults, indulge in a grown-up milkshake—blend vanilla ice cream, a couple spoonfuls of chocolate orange spread and Gran Marnier until smooth and pour into a frosty glass.
About the producer
If it weren't for their yellow umbrella, we may have never discovered Il Colle del Gusto tucked in the corner of the farmers' market in Rieti, just outside of Rome. The bright, cheerful color drew us over to their little stand, where we encountered these extraordinary nut spreads and learned the company's winsome story.
When they met, Antonio della Corte was creating sweet sauces for gelaterie and pastry shops and Anna Maria Conti was running a farm and bed-and-breakfast. The two combined their talents (they're partners in life as well), producing a line of spreads made with Anna Maria's own extra virgin olive oil and nuts grown on friends' farms.
We met them just three months after the launch of their delicious creations, and we loved the spreads so much that we decided right there and then to bring them back for you.
More Info
Producer
Country

Italy
Region

Lazio
Size

8.8 ounces (250 grams)