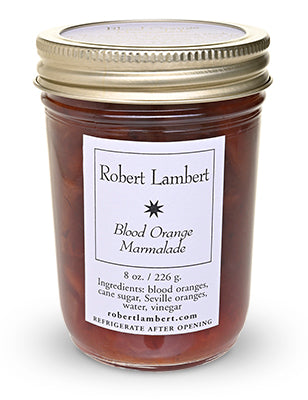 Back to Jam & Marmalade
Blood Orange Marmalade from Robert Lambert
Regular price $25.00 Sale
In Stock
Bittersweet Orange Marmalade 
Made with fruit from a family farm in California, Lambert's Blood Orange Marmalade is fragrant with deep citrus aromas and tender pieces of orange peel suspended throughout. Lambert adds sour Seville oranges, plus a splash of pear vinegar to keep the berry-like sweetness of blood orange in check while also imparting a pleasantly bitter finish. Excellent smothered over a warm buttered biscuit and sipped with Mariage Frères Rouge Bourbon Tea, Blood Orange Marmalade also makes a lavish addition to an after-dinner cheese course. 
Looking for more from Robert Lambert's marmalades? Check out the other delicious marmalade like Blood Orange and Lisbon Lemon.
About the producer
Robert Lambert is many things: Former aspiring rock star, champion of heritage fruits and preserves icon whose marmalades, jellies and jams have garnered a devoted following since the late 1990s. Combining the best fruits harvested from small orchards with fragrant botanicals and, often, fine wine, he coaxes out intense and balanced fruit flavors. Lambert's innovative techniques are also what sets him apart. Citrus peels are boiled in juice (rather than the more common water) for a boost of flavor, sugar is sparingly used and artificial pectin is never added, instead relying only on natural pectin created by the fruits themselves. This handmade, labor-intensive method yields small batches, but with an unparalleled quality that has captivated Lambert's fans, ourselves included.
More Info
Producer
Country

United States
Region

Calistoga, California
Size

226 g - 8 oz