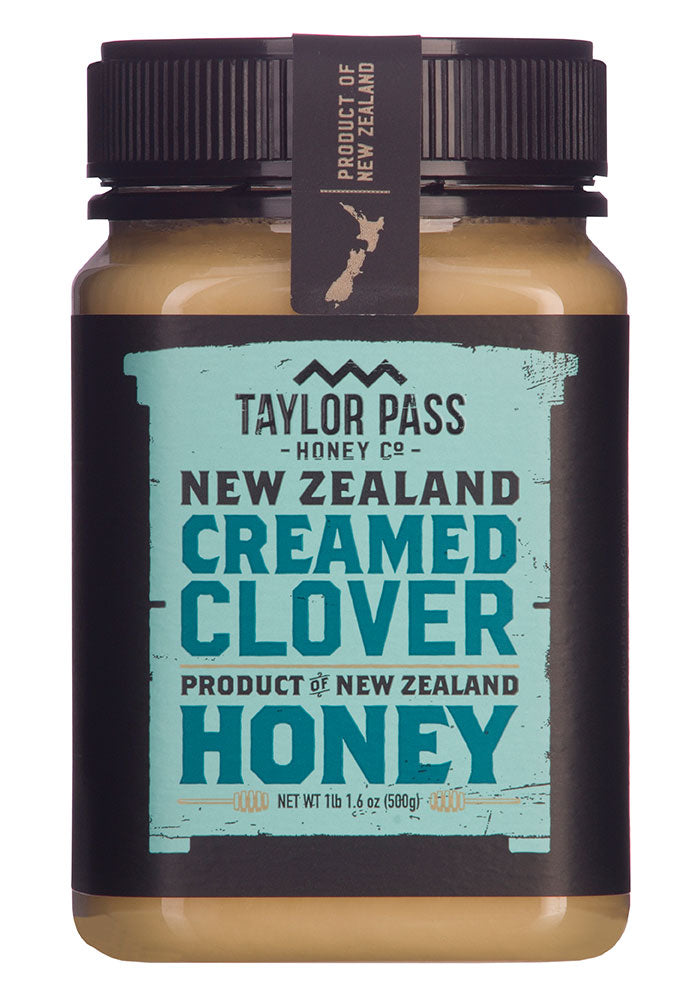 Back to Honey & Syrup
Creamed Clover Honey from Taylor Pass Honey Co
Regular price $19.95 Sale
Out of Stock
Mild Floral Honey from New Zealand
Taylor Pass Honey Co's Creamed Clover Honey—harvested from White Clover, a pasture crop common throughout New Zealand—is heralded for its delicate floral flavor and sweet, rich notes of vanilla bean. 
A unique creaming process, in which crystallized honey is gently stirred breaking down the larger natural sugar crystals into tiny crystals, creates a smooth, luscious spreadable consistency akin to softened butter.
Buzzing for more New Zealand Honey? Dip into Manuka UMF 5+ and Native Flower Honey from Taylor Pass Honey Co.
How to use
Clover honey's mild flavor makes it an ideal all-purpose honey—slather on toast with Koeze Nut Peanut Butter, stir into tea or use in baking. Or try your hand at dreamy homemade marshmallows made with honey instead of corn syrup.
About the producer
Taylor Pass Honey Co have been building their knowledge of beekeeping for almost 30 years, ever since founder Darren Clifford was gifted his first hive when he was 14 years old. Located on the South Island of New Zealand, Taylor Pass Honey Co specializes in monofloral honey varieties, as well as prized UMF Manuka Honey.
The folks at Taylor Pass Honey Co are committed to sourcing and producing high-quality honey. They work closely with their beekeepers, while also building strong, long-lasting relationships with the landowners that house their hives. Using RMP accredited extraction, they use state-of-the-art equipment that ensures the honey stays in its most natural, pure state.
Each type of their honey highlights the specific terroir of the South Island of New Zealand, a unique place known for its rugged terrain, lush valleys and almost year round sunny climate. Taylor Pass Honey Co's honey is a taste of a place—from their Clover Honey from the mountainous region of Central Otago to their Manuka Honey, which comes from the Marlborough Sounds, Nelson Lakes National Park and the Awatere Valley.
More Info
Producer
Country

New Zealand
Region

Marlborough
Size

500 grams