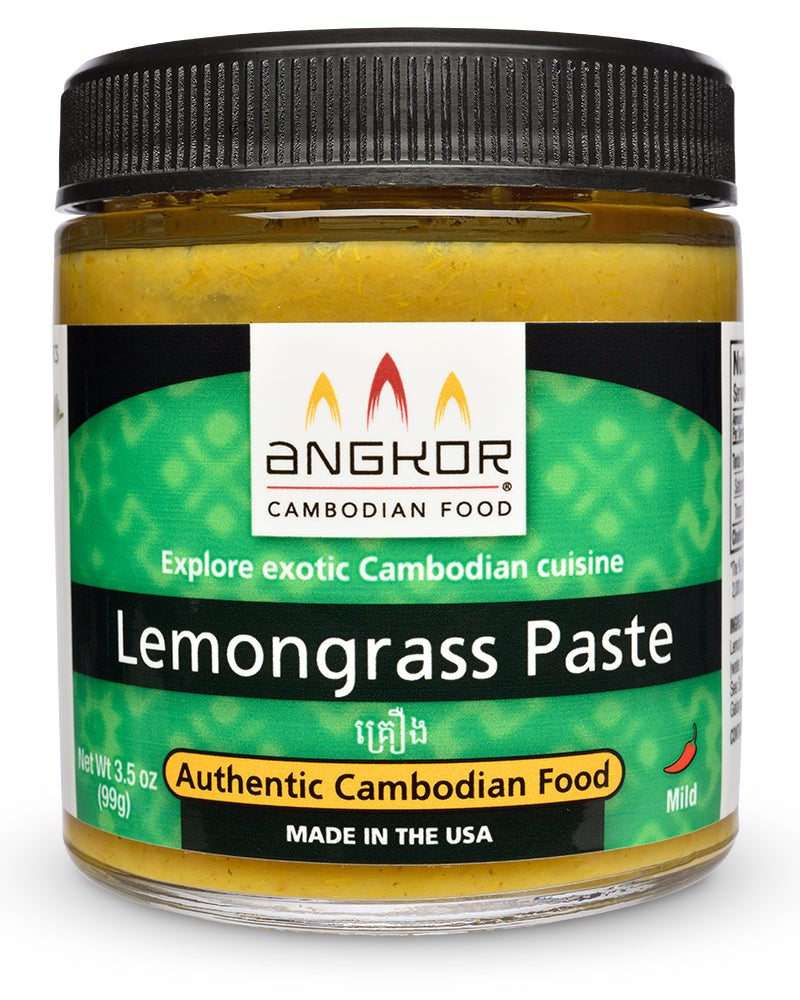 Back to Condiments
Lemongrass Paste from Angkor Cambodian Food
Regular price $11.95 Sale
Out of Stock
Cambodian Cooking Paste (Kroeung) made with Lemongrass, Galangal & Lime Leaf
Kroeung is a fragrant lemongrass-based paste that is found in kitchens across Cambodia. While the recipe differs from household to household, there are a six ingredients that are building blocks for traditional kroeung: lemongrass, turmeric, galangal, garlic, onions, and makrut lime leaves. This flavor-packed paste is used in everything from marinades to stir-fries and soups.

Angkor Cambodian Food's Lemongrass Paste (Kroeung) includes the addition of chilies, fish sauce and lime. It's bold and aromatic with a citrusy, woodsy backbone from the lemongrass and galangal. The addition of fish sauce gives the purée a briny, umami boost, while the lime leaves add a delicate herbaceousness and a touch of sugar balances out all the robust flavors.
Please note: this lemongrass paste is not vegetarian and does contain fish sauce.

Ingredients: Lemongrass, Garlic, Onion, Jalapeños, Fish Sauce (water, anchovy extract, salt, sugar), Cane Sugar, Sea Salt, Canola Oil, Lime Juice Concentrate, Galangal, Turmeric, Makrut Lime Leaf Powder.

How to use
Keep a jar of Angkor Cambodian Food's Lemongrass Paste on hand for easy, flavorful weeknight cooking. Add a few spoonfuls to chicken and basil stir fry, use to marinate skirt steak skewers (even 30 minutes will impart a ton of deliciousness) or whisk a teaspoon or two into a dressing for salads. Koeung is also essential to many traditional Cambodian dishes like Amok (steamed fish curry in banana leaves), Prahok Ktiss (pork belly simmered in coconut milk with kroeung and spices, served with raw vegetables for dipping) and yellow curry. 
About the producer
Chef and founder Channy Laux was born in Cambodia and fled to the United States as a teenage refugee in 1979. Growing up, she continued to nurture her and her family's love for Cambodian cuisine, eventually leaving her career as an engineer to establish Angkor Cambodian Food in the San Francisco Bay Area. 
Awards
2018 Silver sofi™ Award: Cooking Sauce, Marinade
More Info
Producer
Country

United States
Size

3.5 ounces (99 grams)