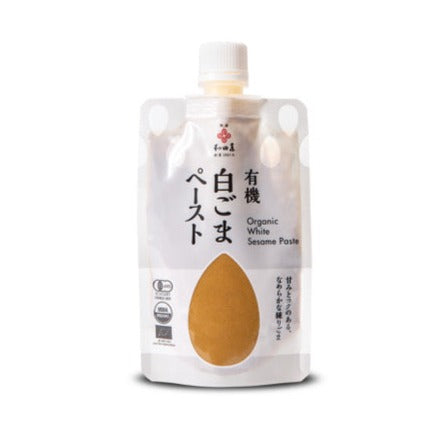 Back to Asian Condiments
Organic White Sesame Paste from Wadaman
Regular price $13.95 Sale
Out of Stock
Japanese 
Sesame Paste
To make this aromatic paste, organic white sesame seeds are ground until they reach a smooth consistency and their sweet and nutty flavor has been released. Wadaman's White Sesame Paste is similar to tahini, but is more concentrated with a toastier flavor.
Ingredients: organic white sesame seeds. Oil Separation is natural; massage package to reincorporate. Refrigeration is not necessary, store in a cool dark place. 

How to use
This white sesame paste can be used in any recipe that calls for tahini, including hummus. Since this sesame paste is more concentrated than tahini, use half as much as recipes call for. Mix with extra virgin olive oil to make a dressing for roasted vegetables, use it to coat udon or ramen noodles for a quick dinner, or stir it into batter for a sweet sesame cake.
Looking for more sesame paste? Check out Wadaman's Gold Sesame Paste and Black Sesame Paste.
About the Producer
Located in Osaka, Japan, Wadaman has been roasting sesame seeds and making sesame products for over 130 years. Its fourth generation owner, Etsuji Wada, has been personally roasting the seeds for over 45 years. Sourcing sesame seeds from the world's best growers, Wadaman's commitment to quality has earned them the reputation of being Japan's premium sesame seed roaster.
More Info
Producer
Country

Japan
Region

Osaka
Size

2.8 oz - 80 g