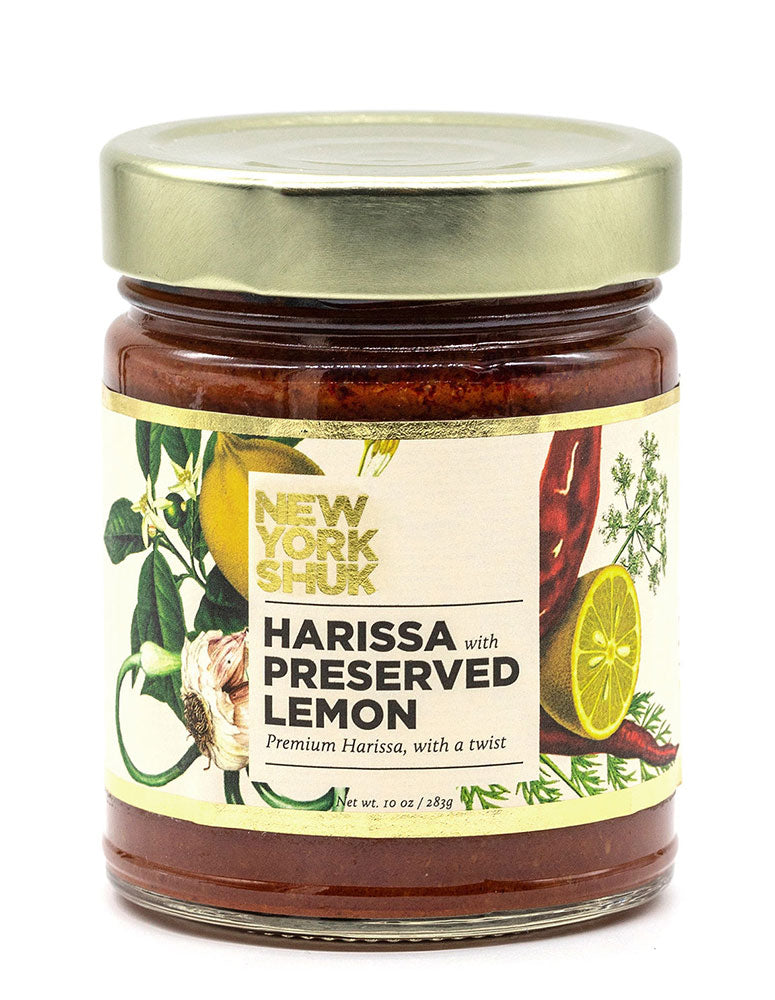 Back to Condiments
Harissa with Preserved Lemon from New York Shuk
Regular price $18.95 Sale
In Stock
Spicy, Chile Paste Flavored with Salt-Cured Lemons
Harissa—a chile condiment popular in North Africa and the Mediterranean, including Turkey, Israel and Lebanon—varies from region to region, as well as from household to household. New York Shuk's Harissa with Preserved Lemon is based on co-founder, Ron Aranzi, grandmother's recipe with a bold, citrusy twist.
This lemon-forward harissa is a medium-spicy combination of dried, rehydrated chiles blended with garlic, preserved lemons, non-GMO sunflower oil and aromatic spices like coriander, cumin and caraway. The salty citrus balances the heat of the harissa, bringing both fire and a lip-smacking brininess. One of our pantry favorites, this condiment adds a little heat and lots of zip, zing and zest with just a spoonful!
How to use
New York Shuk's Harissa with Preserved Lemon adds depth, richness, subtle chile heat and a burst of lemony flavor to a variety of dishes. We particularly love the way the floral citrus notes play with fish and seafood. Combine with extra virgin olive oil and fresh lemon juice for an easy marinade for meaty swordfish steaks, shrimp or calamari. Or, make a zingy spread by stirring a generous spoonful of harissa into a 50/50 blend of mayonnaise and plain yogurt—slather on fried fish sandwiches, use as a dip for popcorn shrimp or as a dressing for tuna fish salad. 
About the producer

Shuk means "market" in Hebrew. For Ron and Leetal Arazi, chefs and founders of New York Shuk, the bustling outdoor Israeli markets represent the intersection between culture and community, two values they wish to share through their products. Based in Brooklyn, New York, the husband-and-wife team draw culinary inspiration from their combined Jewish, Moroccan, Lebanese, Turkish and Eastern European heritages to create vibrant pantry staples to enhance everyday cooking.
More Info
Producer
Country

United States
Region

New York
Size

10 ounces (255 grams)