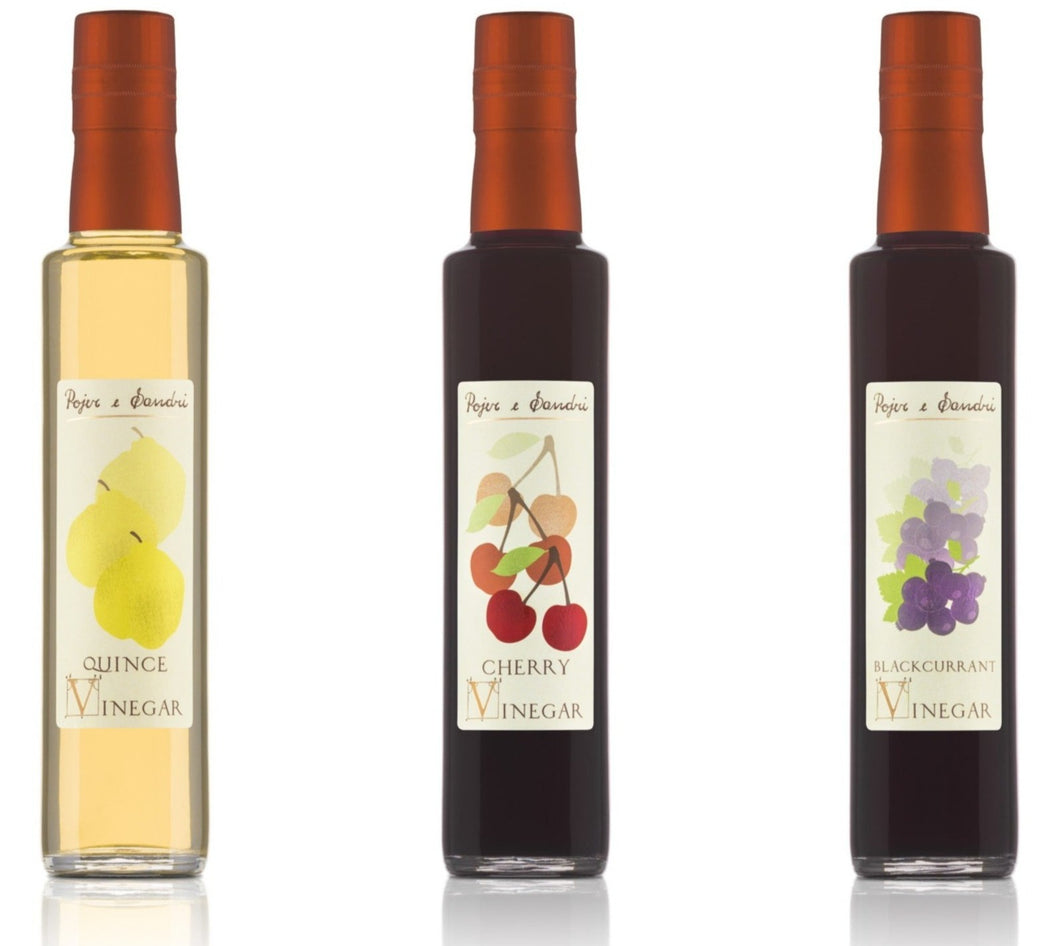 Back to Autentico: Cooking Italian, the Authentic Way
Fruit Vinegar Gift Trio from Pojer e Sandri
Regular price $59.00 Sale
Out of Stock
Gift Set of Three Fruit Vinegars from Trentino-Alto Adige
Pojer e Sandri's single-fruit vinegars are in a class of their own. These incredible vinegars are made from the juice of fermented fruit, rather than from wine. After carefully selecting the fruit from the family's orchards or from select farmers in the area, the fruit is gently pressed and inoculated with yeast to ferment. After reaching the desired sugar content, the fermented juice is then put through the trucciolo lento method and placed in oak barrels containing some of the vinegar "mother." Depending on the fruit, the process might take anywhere from 18 to 24 months until the right balance of acidity and fruitiness is achieved.
These vinegars, bursting with the ripe, bright flavor of the fruit from which they come, make an elegant gift for everyone from the novice cook to the foodie who has everything. Pojer e Sandri Fruit Vinegars are the ultimate tabletop condiment to enlighten salads, grilled vegetables and meats, as well as sliced pineapple, citrus fruit, melons and strawberries. This gift trio of fruit vinegars comes with Cherry, Quince and Blackcurrant flavors. They are also available individually. 
About the producer
Perched on the steep eastern side of the canyon-like valley of the Adige River,  Pojer e Sandri is one of the most remarkable wineries in the Trento region of Italy. The dynamic team of Fiorentino Pojer and Marco Sandri have owned the estate since 1978, when Fiorentino, as the landowner, teamed up with Marco, who had just graduated from enological school. They set out to protect and revive the many local grapes of the area and produce wines which were almost forgotten. Their respect of the environment and traditions along with their outgoing personalities and hospitality soon set them on a class of their own. Today, they are widely respected as one of the most unique and trend-setting wineries in Italy. Pojer e Sandri has now expanded their expertise to include the production of high quality fruit vinegars.
More Info
Producer
Country

Italy
Region

Trentino-Alto Adige
Size

Three 250ml bottles