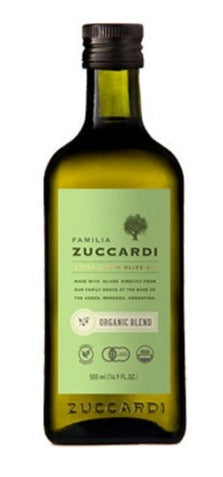 Back to Oil & Vinegar
Organic Blend Extra Virgin Olive Oil from Familia Zuccardi
Regular price $25.95 Sale
In Stock
2023 Harvest Extra Virgin Olive Oil from Argentina
Tasting Notes
This current harvest extra virgin olive oil is a blend of 80% Picual and 20% Arauco cultivars, delivering strong grassy aromas of green tea with notes of dark, leafy greens and a peppery finish. A delicate to medium-intensity oil.
Each year, the Zuccardi family of Mendoza evaluates their different cultivars and blends varying concentrations of each according to the particular year's harvest characteristics. This helps them achieve a consistent style while still capturing the unique terroir of their land.

How to Use
Versatile and friendly, this oil can be used for dressing and finishing. Drizzle over tender greens—think spicy watercress or crisp little gems—or use to finish grilled seafood such as charred squid.
Want more from Familia Zuccardi? Try their single-varietal Arauco Extra Virgin Olive Oil.
About the Producer
The Zuccardi Family Varietal Olive Oil Project began in 2004. A prestigious family of Argentine winemakers, the Zuccardis were looking to develop and showcase the quality of extra virgin olive oil from their hometown, Mendoza. A high-altitude desert in the foothills of the Andes, Mendoza is home to a range of environmental conditions that allow olive orchards to flourish. It's in this unique landscape that the Zuccardi family employs sustainable farming techniques while selecting the cultivars best-suited to the region.
More Info
Producer
Country

Argentina
Region

Mendoza
Size

500 ml
Harvest Date

May 2023
Olive Varietal

Picual and Arauco