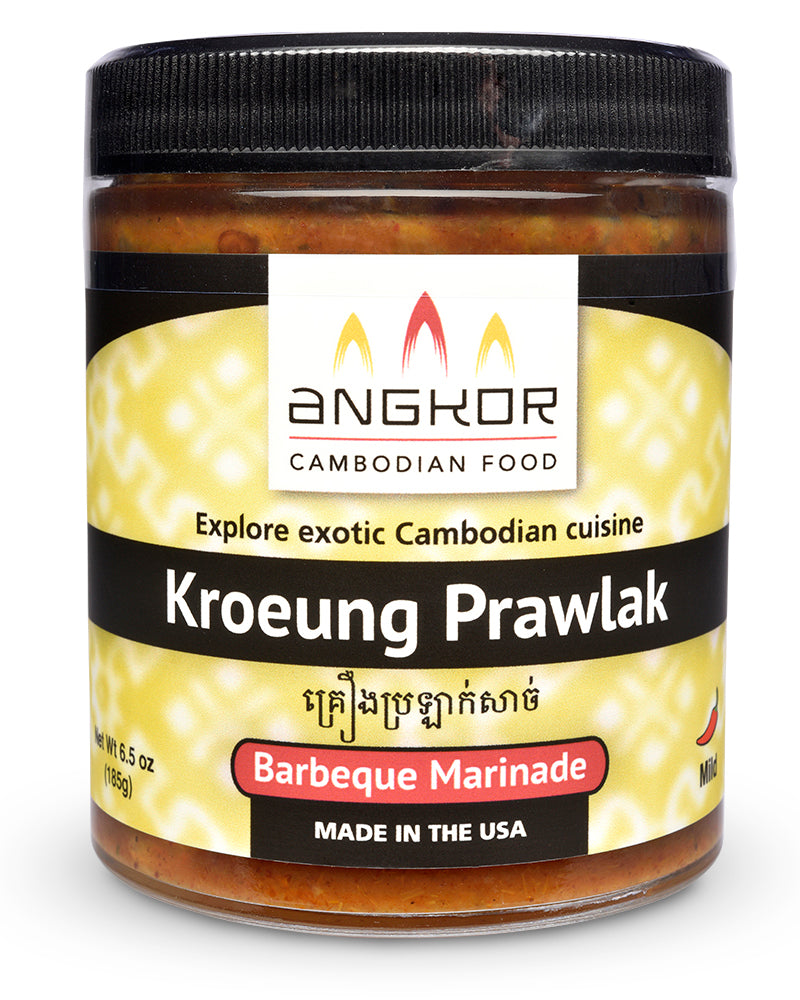 Back to Grilling Season Essentials
Cambodian Barbecue Paste (Kroeung Prawlak) from Angkor Cambodian Food
Regular price $12.95 Sale
In Stock
Traditional Cambodian BBQ Marinade, Ready to Use Straight from the Jar
Channy Chhi Laux, founder of Angkor Cambodian Food, developed Kroeung Prawlak to celebrate the flavors found in Cambodian street food cooking. This lemongrass-forward marinade is classically used to flavor grilled meats and skewers (best enjoyed with an ice cold beer!). 
Angkor Cambodian Food's Kroeung Prawlak BBQ marinade is vibrant and fragrant from lots of lemongrass, garlic and onion. The addition of turmeric adds a rich, earthiness, while tamarind lends an underlying tang and chile peppers bring just the right amount of tongue-tingling heat. Cane sugar balances out the spice, while also helping the meat caramelize when grilled. One jar is enough paste to marinate about 2 1/2–3 pounds of meat.
Please note: this BBQ paste is not vegetarian.
Ingredients: Lemongrass, Avocado oil, Cane Sugar, Beef Flavor (beef stock, maltodextrin, salt, sugar, yeast extract, onion powder, natural flavor, beef extract, beef fat), Garlic, Onion, Sea Salt, Spice (including turmeric), Tamarind, Chile Peppers.
How to use
BBQ enthusiasts, meet your new best friend. Kroeung Prawlak is as versatile as it is aromatic. Use it to marinade skirt steak skewers, head-on shrimp or even a whole, spatchcocked chicken before grilling. It is also delicious with vegetables—toss with brussels sprouts, green beans, asparagus and mushrooms before they're kissed by the flames. 
Or, use the Cambodian barbecue paste, as a flavor-boosting ingredient. Add a couple spoonfuls to stir fries, braises and pan sauces. We also love adding a few tablespoons to ground meat (it's great with pork, chicken, turkey and beef) with lots of chopped cilantro and mint and egg for a bold meatball mix. Roll into balls and broil until caramelized and crispy on the outside.
About the producer
Chef and founder Channy Laux was born in Cambodia and fled to the United States as a teenage refugee in 1979. Growing up, she continued to nurture her and her family's love for Cambodian cuisine, eventually leaving her career as an engineer to establish Angkor Cambodian Food in the San Francisco Bay Area. 
More Info
Producer
Country

United States
Size

6.5 ounces (185 grams)