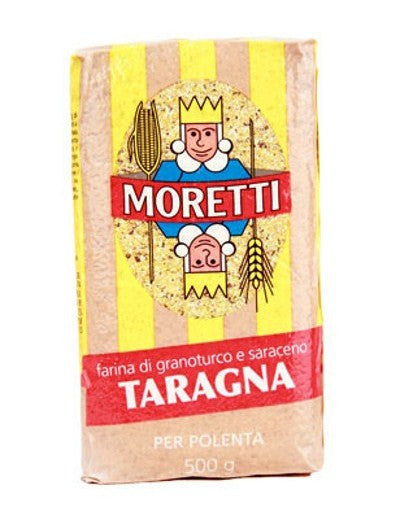 Back to Grains
Taragna Buckwheat Polenta from Moretti
Regular price $5.95 Sale
In Stock
Yellow Corn Polenta Blended with Stone-Ground Buckwheat
Buckwheat Polenta—also known as taragna polenta or polenta nera ("black polenta")— is a rich, hearty blend of coarsely ground yellow corn and buckwheat flour. The result? A warm, creamy bowlful with a touch of sweetness from the ground corn and a nutty earthiness from the buckwheat (plus it's gluten-free). 
This Northern-Italian blend is typical of the Valtellina and the Alpine valleys north of Brescia and Bergamo. While it is a staple in cold-weather cooking served with slow-cooked meat sauces or enriched with cubes Fontina Val d'Aosta or Taleggio cheese, it is equally delicious any time of the year with a variety of toppings.
How to use
Enjoy Buckwheat Polenta from Moretti all year-round:
Winter: Top soft polenta with caramelized mushrooms and shaved black truffles.
Spring: Serve with a sauté of asparagus, fresh English peas and fava beans. 
Summer: Garnish with sweet slow-roasted tomatoes, torn basil, shaved Parmigiano-Reggiano cheese and plenty of extra virgin olive oil.
Fall: Devour with a traditional bolognese sauce as the nights grow cooler.
For a satisfying brunch dish you can serve any time of the year, try topping soft buckwheat polenta with garlicky sautéed greens and olive oil-fried eggs.
About the producer
The Moretti family has been growing, drying, & grinding corn since 1922 in the town of Bergamo.
More Info
Producer
Country

Italy
Region

Lombardy
Size

1.1 pounds