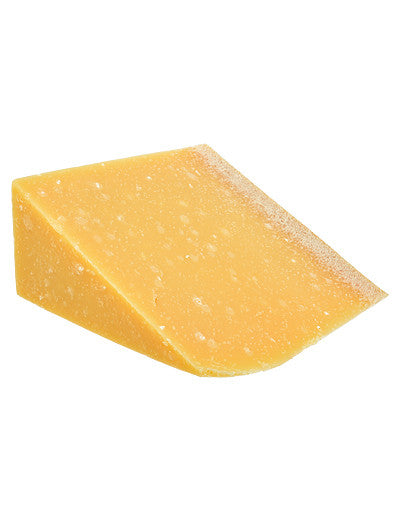 Back to Cheese & Charcuterie
Parmigiano-Reggiano
Regular price Sale
In Stock
"The King" is a coveted title claimed by a handful of cheeses and their fans – Stilton, Beaufort, Comte – but even these must tip their hat to Parmigiano-Reggiano.
Italy's most famous cheese is also one of its oldest traditions, with a recipe that's centuries old and highly regulated for quality and consistency. Even among Reggianos, ours is well ahead of the pack. For 5 generations the producing family has hand-selected wheels of Parmigiano-Reggiano direct from the producers and matured the cheese in their own vaults with great care. Aged for a minimum of two summers, the complexity of the grass-fed milk concentrates into deep, nutty and sweet flavors in the end product. Our Parmigiano-Reggiano retains a springiness at 24 months that's rare in a cheese aged so long. This moisture gives these wheels a slightly softer paste than most of the same age, still achieving the high peaks of flavor that we look for without becoming over-dry and waxy.
Perhaps the most versatile and satisfying cheese we've ever met. Our favorite way to enjoy Parmigiano-Reggiano is next to a glass of rich, complex, earthy red wine like Barolo or Barbaresco; these wines benefit from the nuttiness and low acidity of the cheese and together they truly sing for one another. Although in the U.S. most Parmigiano-Reggiano is used for cooking, it is a fantastic table cheese that's low-fuss and delicious - great for cheese plates or a snack for a long hike. In the kitchen, try it grated over roasted asparagus or fresh pasta tossed with your favorite olive oil. Simply the best.
Featured in these recipes:
More Info
Producer
Country

Italy
Region

Emilia Romagna
Size

Various
Milk Type

Cow
Pasteurization

Raw Milk
Rennet

Traditional
Texture

Hard