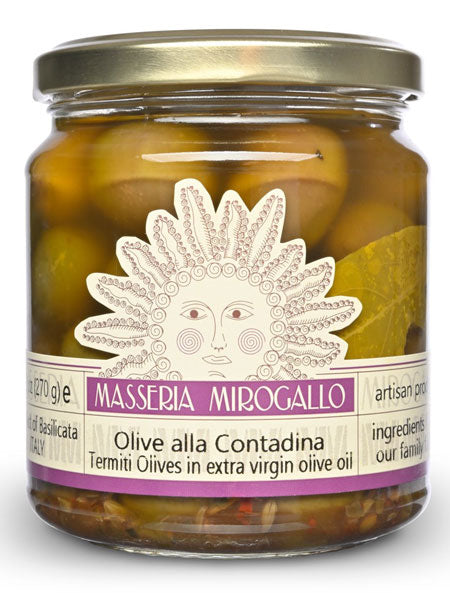 Back to Antipasti
Termiti Olives in Extra Virgin Olive Oil from Masseria Mirogallo
Regular price $10.95 Sale
In Stock
Whole Olives from Basilicata, Italy

These whole Termiti olives are grown by the Belfiore family on their farm in Matera, in the heart of Basilicata. After harvest, the selected olives are cured in a brine of just water and salt, kickstarting the process of lactic fermentation. At 90 days, the olives are no longer astringent and instead are firm and meaty with a briny bite. Once ready, they are drained, washed, and jarred alla contadina (peasant style) in the Belfiore family's own extra virgin olive oil enhanced with herbs and spices, including fennel seeds, oregano, bay leaves and spicy peperoncino. As always, Masseria Mirogallo never uses preservatives or dyes, showing the olives' varying shades of purple, green and black on full display.
These olives still contain their pits.


How to use
Enjoy straight from the jar or
serve on an antipasto platter
with sliced salumi, 
Taralli Crackers from Danieli
 and other pickled vegetables from Mirogallo, like their 
Mushrooms in Extra Virgin Olive Oil
. These olives are great for cooking too—
press them into focaccia dough before baking
or toss them into a braise with chicken and lemon.


About the producer
The Belfiore family farm, known as Masseria Mirogallo, sits on 70 acres of land in the southern Italian region of Basilicata. The family specializes in cultivating heirloom vegetables, from which they handcraft exceptional pantry preserves—bright tomato sauces, sun-dried tomatoes packed in extra virgin olive oil and hand-peeled artichoke hearts. 

Everything Masseria Mirogallo puts in a jar—from vine-ripened tomatoes to sun-sweet peppers and artichokes—comes from their fields and is processed on-site, often mere minutes after being picked (which means you can open peak-season flavor with a simple twist of a lid).
More Info
Producer
Country

Italy
Region

Basilicata
Size

9.52 ounces (270 grams)