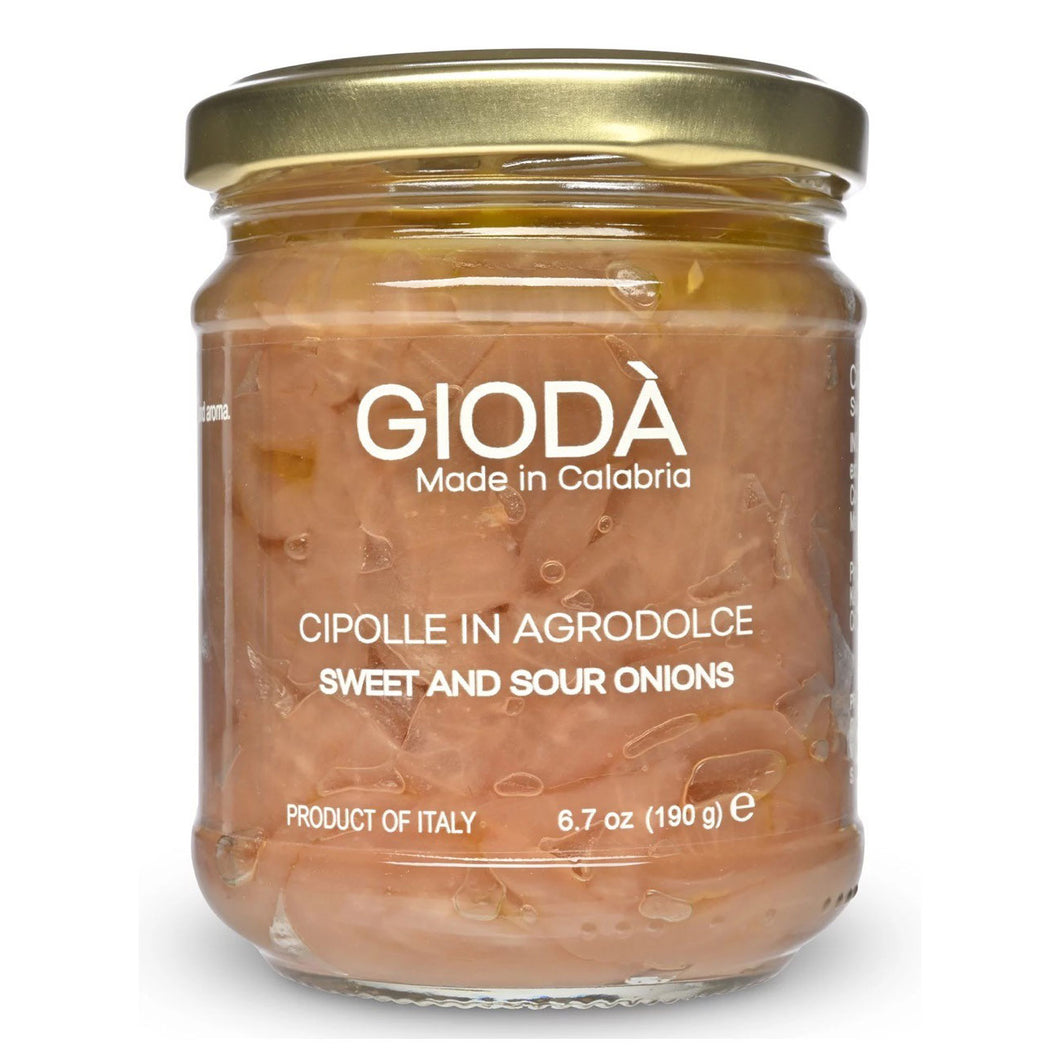 Back to Antipasti & Vegetables
Sweet and Sour Onions from Giodà
Regular price $17.95 Sale
In Stock
Giodà's cipolle in agrodolce is made from Calabria's famed Tropea red onions, or cipolle rosse di Tropea, known for being so naturally sweet and mild that locals often bite into them raw. These thin slices of Tropea red onions are preserved in agrodolce, a sweet-and-sour brine of red wine vinegar, sugar and extra virgin olive oil. 
Tropea red onions are prized for their lack of pyruvic acid, which is responsible for a typical onion's pungency. Grown along Calabria's Tyrrhenian coast for over two millennia, their distinct flavor is attributed to the region's unique terroir of sandy soils and proximity to the sea. In other words, these onions are unlike any other. 
How to use
Enjoy Giodà Sweet and Sour Onions in salads, sandwiches or alongside cheese and charcuterie. Their tangy bite is particularly delicious with seafood. Try serving them as a punchy condiment with grilled swordfish steaks or seared tuna fillets.
About the producer
Giodà is the brainchild of two sisters, Giovanna and Ida Conforti, who grew up in the small Calabrian town of Santo Stefano di Rogliano. After pursuing careers in marketing and architecture respectively, the sisters decided to return home to Calabria in 2019 with the goal of sharing with the world the food they grew up eating—jams, marmalades and preserves made with local produce and without preservatives. In 2020, the COVID-19 pandemic halted production, providing profound challenges for the nascent company. But Giovanna and Ida pressed on, tapping into Calabria's rich culinary traditions and local agriculture, with each jar becoming a symbol of both personal and regional resilience. 
More Info
Producer
Country

Italy
Region

Calabria
Size

6.7 ounces (190 grams)