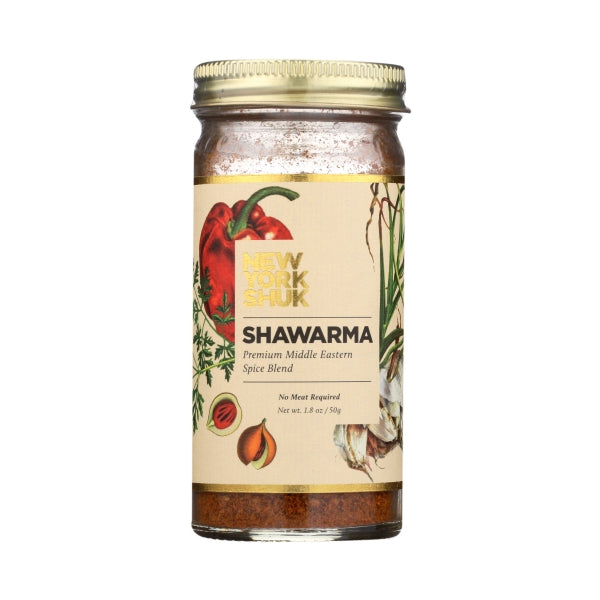 Back to Grilling Season Essentials
Shawarma Spice Blend from New York Shuk
Regular price $12.95 Sale
In Stock
Street Food-Inspired Seasoning
Inspired by the bold flavors of shawarma—meat cooked on a rotating spit—this spice mix invokes the enticing aromas of the classic Middle Eastern street food. A piquant blend of coriander seeds, cumin, paprika, turmeric, garlic and salt, New York Shuk's Shawarma seasoning serves as a short cut to elevating roasted vegetables, grilled meat and more.
Ingredients: coriander seeds, cumin, paprika, turmeric, garlic, spices, sunflower oil & salt.
How to use
This shawarma blend makes an excellent dry-rub and we love combining it with yogurt to make a marinade for chicken, lamb or seafood—but it's not only for meat. Try coating tofu or hearty vegetables, like eggplant or cauliflower in a shawarma-spiked marinade before cooking. New York Shuk's Shawarma spice blend also makes a zesty base for stews and a simple sprinkle brightens up hummus and other dips.


About the producer

Shuk means "market" in Hebrew. For Ron and Leetal Arazi, chefs and founders of New York Shuk, the bustling outdoor Israeli markets represent the intersection between culture and community, two values they wish to share through their products. Based in Brooklyn, New York, the husband-and-wife team draw culinary inspiration from their combined Jewish, Moroccan, Lebanese, Turkish and Eastern European heritages to create vibrant pantry staples to enhance everyday cooking.
More Info
Producer
Country

United States
Region

New York
Size

1.8 oz - 50 g