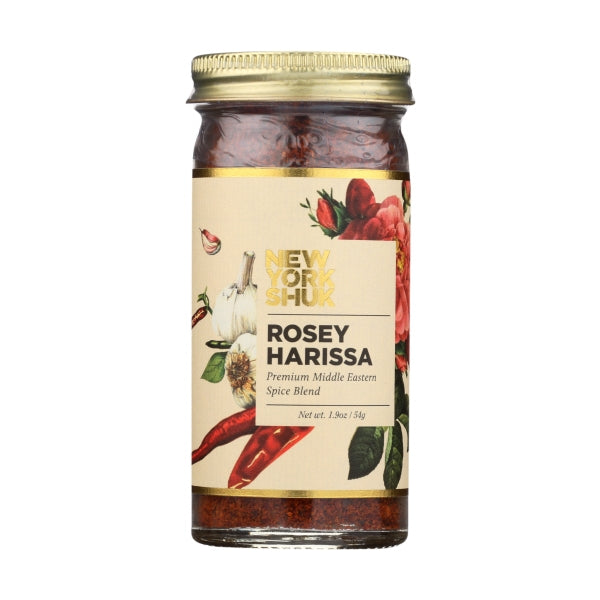 Back to Herbs & Spices
Rosey Harissa from New York Shuk
Regular price $12.95 Sale
In Stock
Chile Powder with Rose Petals
Milder than its concentrated cousin, Signature Harissa Paste, this fragrant spice blend has a mellow heat with a delicately floral and tart lift. Its distinct profile is unlike anything else on the spice rack thanks to a combination of sun-dried chile peppers, rose petals, paprika, garlic and other spices.
Ingredients: chili peppers, paprika, rose petals, spices, sunflower oil, garlic and salt.
How to use
In its dry form, harissa can be used in more subtle ways than a paste—sprinkle it over eggs, avocado toast or coat the rim of a Bloody Mary glass. Excellent with fish, New York Shuk's Rosey Harissa complements roasted salmon and brightens up tuna salad. Add a pinch to tomato soup, lentil stew or any comforting braise that needs a snap of flavor. Or, whisk it with extra virgin olive oil to transform it into a spice rub for chicken, steaks, grilled vegetables and more.

Want more from New York Shuk? Try their Za'atar, Shawarma Spice Blend and Ras El Hanout.


About the producer

Shuk means "market" in Hebrew. For Ron and Leetal Arazi, chefs and founders of New York Shuk, the bustling outdoor Israeli markets represent the intersection between culture and community, two values they wish to share through their products. Based in Brooklyn, New York, the husband-and-wife team draw culinary inspiration from their combined Jewish, Moroccan, Lebanese, Turkish and Eastern European heritages to create vibrant pantry staples to enhance everyday cooking.
More Info
Producer
Country

United States
Region

New York
Size

1.9 oz - 54 g