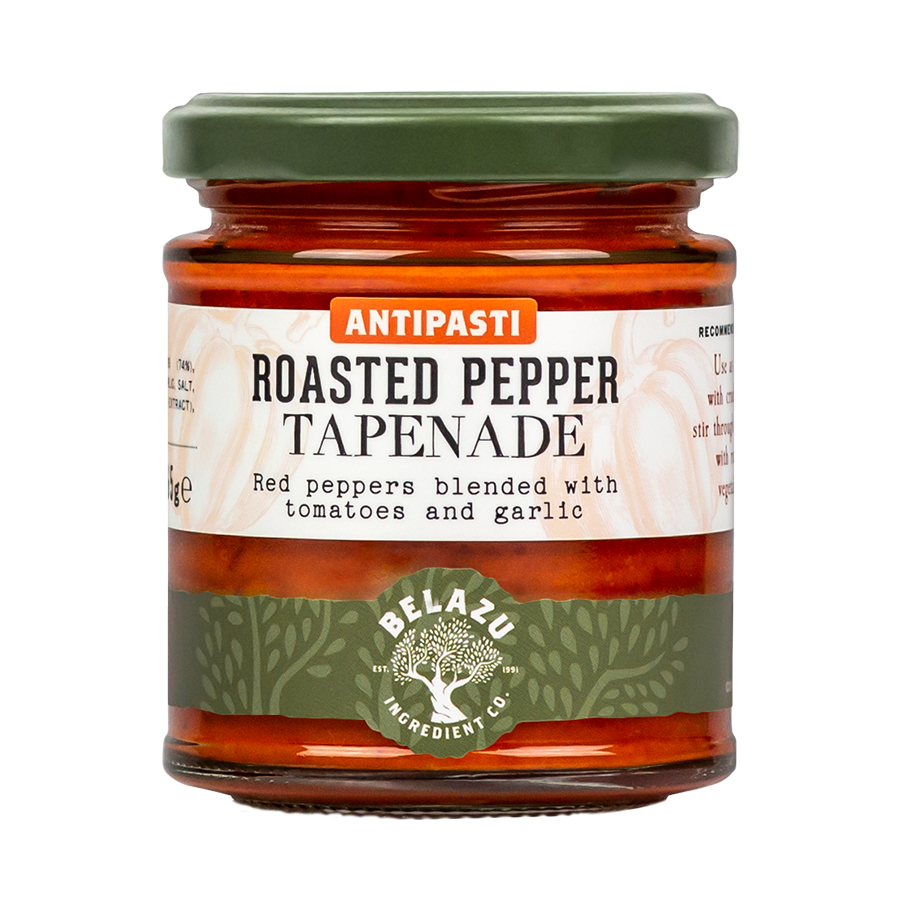 Back to Antipasti
Roasted Red Pepper Tapenade from Belazu Ingredient Co.
Regular price $10.95 Sale
In Stock
Antipasti Made with Red Peppers and Tomatoes
Grilled red peppers take center stage in Belazu's twist on the traditional olive-based tapenade. Rich with bright pepper flavor—think sweet and mild rather than hot and spicy—this tapenade is rounded out with vibrant tomato paste, garlic, paprika and other spices. A splash of balsamic vinegar brings a mild, balanced bite to this textured yet still spreadable tapenade. 
Ingredients: Spanish grilled red peppers, sunflower oil, tomato paste, roasted aubergines, salt, garlic puree, balsamic vinegar of modena(cooked grape must, wine vinegar), dried onions, dried peppers, dried mixed spices and acidity regulator: lactic acid.


How to use
Make a quick and easy grazing platter by serving this Roasted Red Pepper Tapenade as a dip with crudités and crackers. Slather this spread onto a crusty baguette with crumbled feta and fresh tomatoes or for a hearty weeknight dinner, stir into warmed Farro Couscous from Rustichella d'Abruzzo topped with roasted eggplant and zucchini.
About the producer
Childhood best friends Adam Wells and George Bennell have been sourcing small-production Mediterranean ingredients for England's finest restaurants since 1991. Inspired by the simple premise that home cooks also deserve these same quality ingredients, Belazu Ingredient Company officially formed in 2000. A certified B-Corp, Belazu is committed to rigorous standards of social and environmental sustainability.
More Info
Producer
Country

United Kingdom
Size

165 g