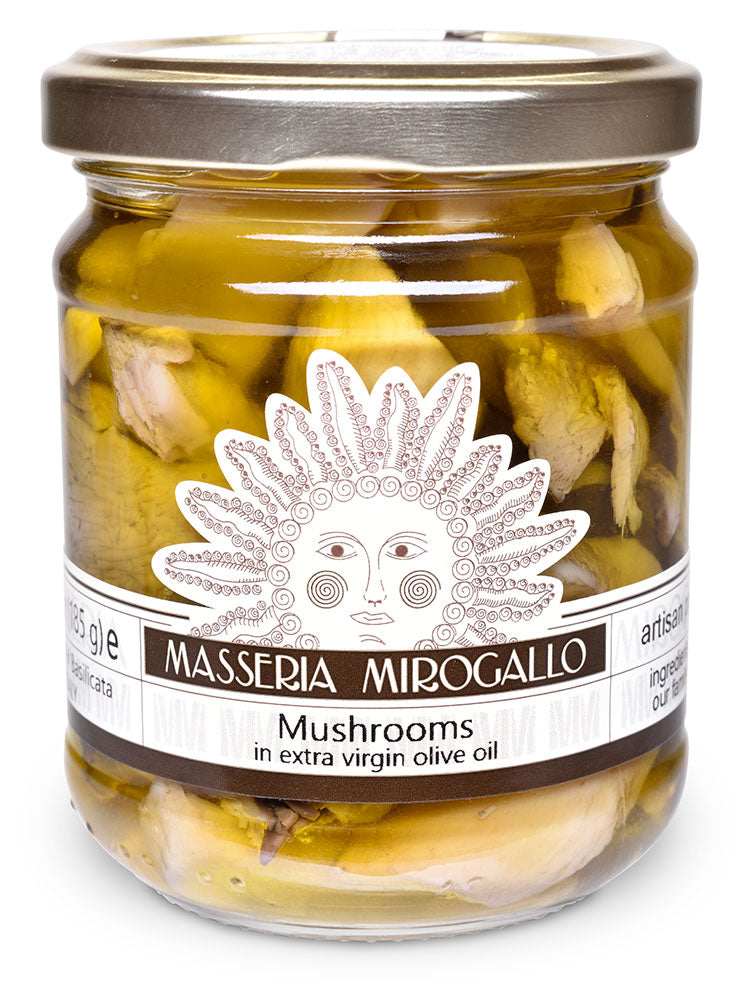 Back to Antipasti
Mushrooms in Extra Virgin Olive Oil from Masseria Mirogallo
Regular price $12.95 Sale
In Stock
Lightly Pickled King Trumpet Mushrooms in Olive Oil from Basilicata, Italy
King trumpet mushrooms (pleurotus eryngii) are known by many names in the funghi world: king oyster, cardoncelli, French horn, trumpet royale and boletus of the steppes, just to name a few. A member of the oyster mushroom family, they are prized for their firm, meaty texture and delicate earthy flavor.
For their preserved mushrooms, the folks at Masseria Mirogallo start with king trumpets cultivated and harvested on their 70-acre estate in the southern Italian region of Basilicata. The mushrooms are halved and blanched in an acidulated mixture of water, white wine and wine vinegar, lightly pickling them. The mushrooms are drained and then packed in Italian extra virgin olive oil. The finished mushrooms have a nuanced umami flavor, subtle pickled tang and still retain their hearty, meaty texture.
How to use
Masseria Mirogallo's Mushrooms in Extra Virgin Olive Oil are the perfetto addition to any antipasti spread before the meal. Pair with a variety of salumi, cheese and other marinated vegetables like artichoke hearts and broccoli rabe. And, don't forget an Aperol or Campari spritz to whet your appetite! 
The meatiness of these preserved mushrooms make them ideal for vegetarian dishes (sure to satisfy non-meat and meat eaters alike!). Add the mushrooms to salads, use as a topping for grain bowls, layer into sandwiches or roughly chop and toss with pasta. Or lightly drain the mushrooms and use them as a pizza topping—make sure to save the oil for umami-packed salad dressings!
About the producer
The Belfiore family farm, known as Masseria Mirogallo, sits on 70 acres of land in the southern Italian region of Basilicata. The family specializes in cultivating heirloom vegetables, from which they handcraft exceptional pantry preserves—bright tomato sauces, sun-dried tomatoes packed in extra virgin olive oil and hand-peeled artichoke hearts. 

Everything Masseria Mirogallo puts in a jar—from vine-ripened tomatoes to sun-sweet peppers and artichokes—comes from their fields and is processed on-site, often mere minutes after being picked (which means you can open peak-season flavor with a simple twist of a lid).
More Info
Producer
Country

Italy
Region

Basilicata
Size

6.52 ounces (185 grams)