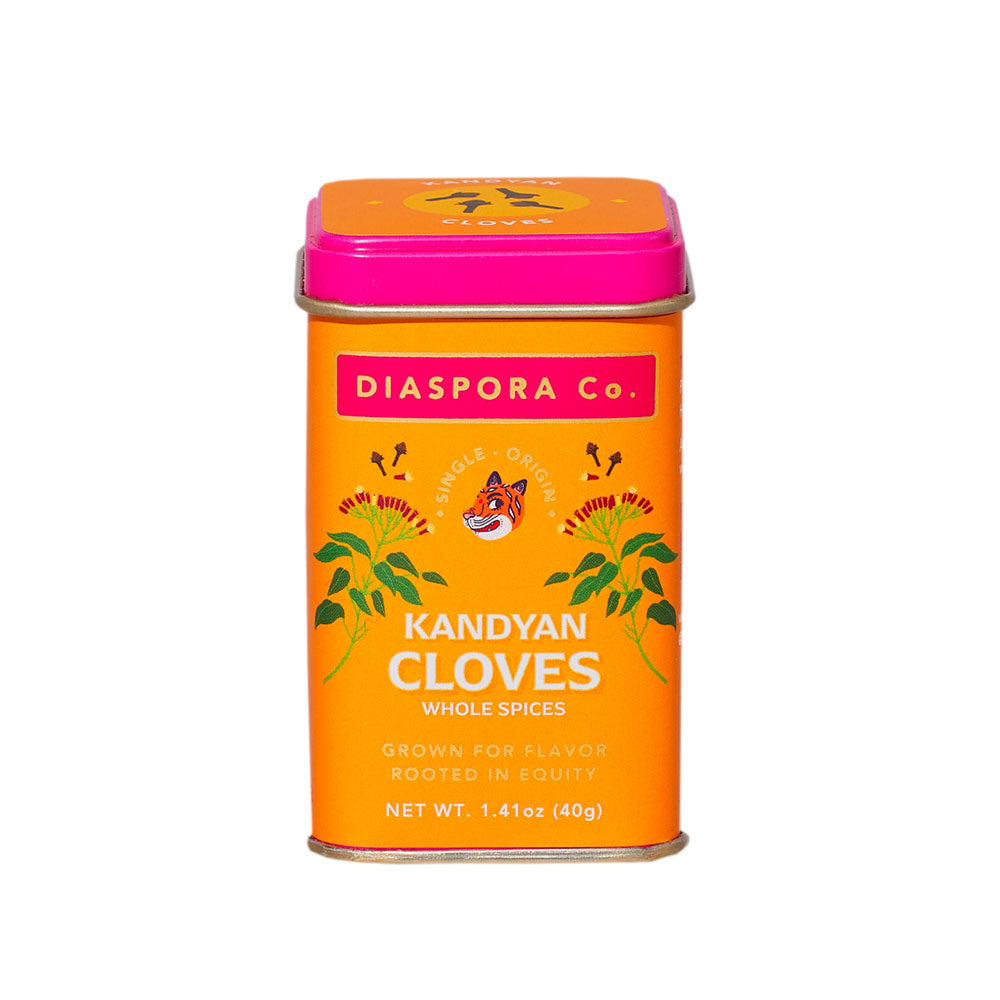 Back to Diaspora Co
Kandyan Cloves from Diaspora Co.
Regular price $11.95 Sale
In Stock
Wild, Single-Origin Whole Cloves
These plump and oil-rich cloves are pungent with notes of pine, butterscotch and allspice. Wild grown in the forests of Kandy, Sri Lanka, these cloves are hand-harvested and hard-sorted by Eko Land Produce, a community of organic farmers and Diaspora Co. partner.
How to use
Crush these cloves with a mortar and pestle and mix into spice blends to use for the base of stews or rubs. And if you're in the holiday spirit, combine with cinnamon and nutmeg to make your own pumpkin pie spice or add a kick to chewy gingerbread.
Looking for more from Diaspora? Try their Aranya Black Pepper and Anamalai Nutmeg. 
About the producer
Sana Javeri Kadri, founder of Diaspora Co., is changing the way the supply chain works in the spice industry. Her goal is to put money, equity and power back into the hands of the farmers by cutting out the middle man and decolonizing the commodity spice trading system.
Sana grew up in Mumbai, India and moved to America to attend college. After graduating, she began working as the marketing manager for a grocery store in the San Francisco Bay Area. During her time there she realized that the sourcing of particular products, like chocolate and coffee, was becoming more and more transparent to retailers and customers, but that was still not the case with spices. This fueled Sana's desire to bring the spices she grew up with to the American market and create a better, more equitable spice trade model focused on flavor, sustainability, heirloom seeds and empowering farmers.
Sana started her journey with a five-month trip to India, where she learned about the spice industry and begin working with the Indian Institute of Spice Research (a non-profit agricultural research facility that works with farmers to promote sustainable and profitable spice production). Through this institute, she began learning about turmeric cultivation and was also introduced to farmers growing heirloom varietals of the spice. She returned to Oakland and after much hard work launched her first spice stateside: Pragati Single-Origin Heirloom Turmeric. 
More Info
Producer
Country

Sri Lanka
Region

Digana
Size

1.41 ounces (40 grams)
Harvest Date

2023