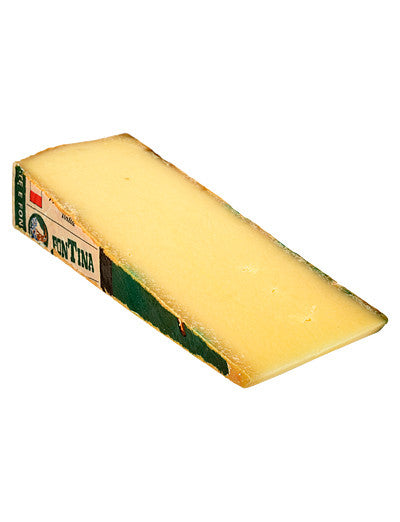 Back to Cheese
Fontina Val d'Aosta
Cooperativa Produttori Latte e Fontina
Regular price Sale
In Stock
This is one of history's favorite cheeses and one of our favorites as well. Fontina Val D'Aosta has earthy notes, a touch of mushroom, a little fruit and a light milky undertone. It also is a flavorful cooking cheese, being the champion melter that it is, and a full bodied red wine's best friend.  Live like the Italians! Top your steak with it, go for some fonduta over polenta or shred into your pasta for the golden dinner party. Mangiare dal vivo amore as they say. Live, eat and love.  
This cheese really is a piece of history handed down through the generations to your table, kitchen and palate.
The first records date from the 1200s, and is mentioned time and time again throughout historical record. The Valle D'Aosta, is bordered by France, Switzerland and the Piedmont region, is notorious for its luscious grazing land and amazing cheese. There are 400 producers making 400,000 wheels a year certified by the Consorzio and stamped with the Matterhorn. They must be raw milk from a single milking, and a slice of the final product must be able to be bent in half without breaking to receive the prestigious Matterhorn stamp.
More Info
Country

Italy
Region

Valle D'Aosta
Size

Various
Milk Type

Cow
Pasteurization

Raw Milk
Rennet

Traditional
Texture

Semi-hard