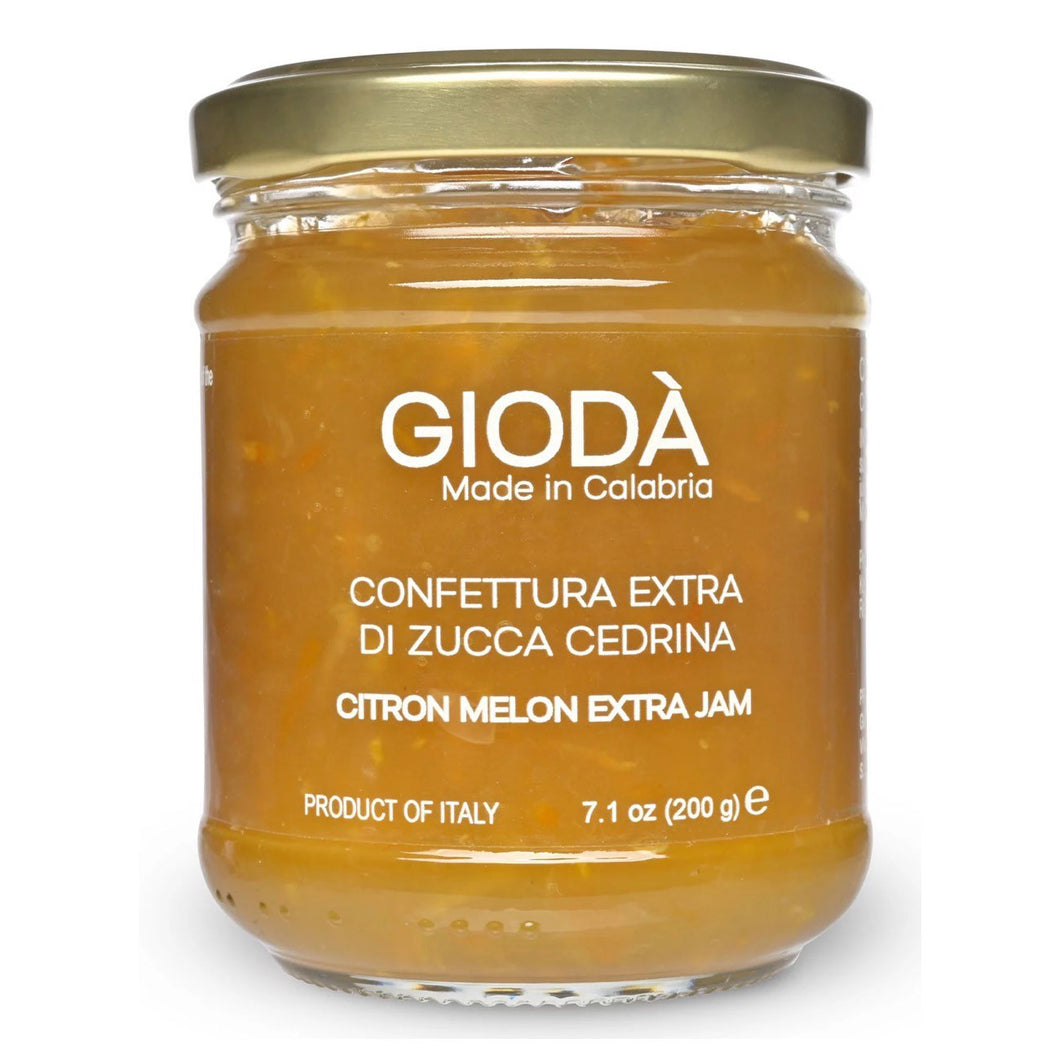 Back to Giodà
Citron Melon Extra Jam from Giodà
Regular price $17.95 Sale
In Stock
Giodà's preserves are often based on the founders' family recipes and this jam is no exception. The Conforti family have been cultivating and preserving citron melons, or zucca cedrina, for generations. It's an heirloom melon variety so rare, botanists have reached out to Giodà for a chance to study their plants. Similar to a marmalade, this jam is delicately sweet with notes of melon, cucumber and citrus. Even more impressive, this jam is made of 75% fruit, far exceeding Italy's "confettura extra" standard of at least 45% fruit.
Making this jam is a labor of love, as each step is done by hand including peeling the citron melon's extremely thick and tough outer skin. Calabrian oranges and lemons are also hand-peeled and added to the jam where the fruit is cooked down with raw cane sugar and mandarin juice before it's hand-packed into jars. Two labor-intensive days and 220 pounds of melon only yields about 150 jars of jam. 
How to use
Savor this unique jam dolloped over yogurt or paired with bold cheeses. The sisters behind Giodà also love to smooth their Citron Melon Extra Jam over crostini before topping it with a ribbon of salty and savory prosciutto.
About the producer
Giodà is the brainchild of two sisters, Giovanna and Ida Conforti, who grew up in the small Calabrian town of Santo Stefano di Rogliano. After pursuing careers in marketing and architecture respectively, the sisters decided to return home to Calabria in 2019 with the goal of sharing with the world the food they grew up eating—jams, marmalades and preserves made with local produce and without preservatives. In 2020, the COVID-19 pandemic halted production, providing profound challenges for the nascent company. But Giovanna and Ida pressed on, tapping into Calabria's rich culinary traditions and local agriculture, with each jar becoming a symbol of both personal and regional resilience. 
More Info
Producer
Country

Italy
Region

Calabria
Size

7.1 ounces (200 grams)