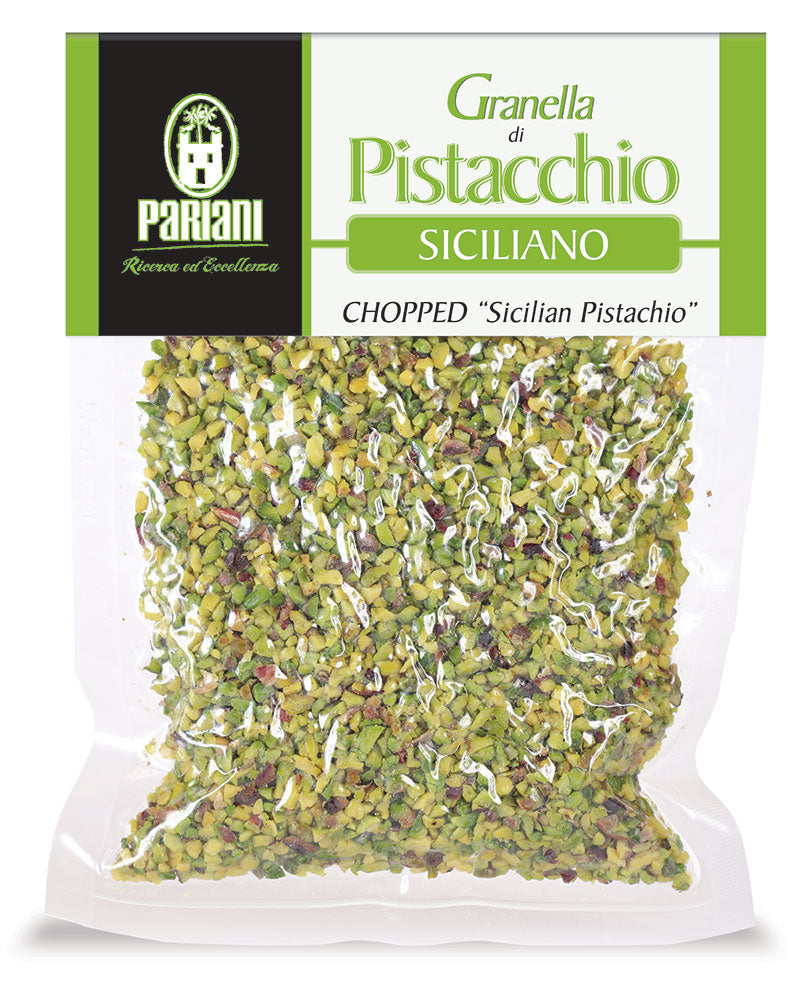 Back to Baker's Dozen
Chopped Sicilian Pistachios from Pariani
Regular price $16.95 Sale
In Stock
100% Sicilian Pistachio Pieces
Mattia Pariani—well-known Italian hazelnut purveyor—traveled south to Sicily to bring us these prized pistachios grown on the fertile, mineral-rich slopes of Mt. Etna, near the village of Bronte. These pistachios are known for their delicate sweet aroma, vibrant green color and concentrated pistachio flavor.
Mattia and his team source their Siclian pistachios from small farmers in the region and then bring them up to their facilities in Piedmont, Italy to process them. They then shell the pistachios—leaving their brilliant purple skins—and roughly chop them into baking-or-garnishing-ready pieces.
How to use
Sprinkle over everything from soups to sundaes, or use them in your favorite baked goods. These chopped nuts are also essential to Sicilian desserts like torrone, cannoli and gelato.
For an easy appetizer, roll a log of fresh goat cheese in a mixture of crushed pistachios, chopped parsley and freshly grated lemon zest. Or top toasted crostini with goat cheese, a sprinkle of chopped pistachios and a drizzle of Acacia Honey with Hot Pepper.
About the producer
Mattia Pariani's love affair with hazelnuts began during his studies at the University of Torino, where his thesis on hazelnut oil won the National Innovation Prize. Not content with scholarly writing and research, Mattia began sourcing the finest hazelnuts, extracting and bottling his own oils from the finest Piemontese hazelnuts and quickly gained a reputation as the ultimate artisan producer of Italian nuts. Mattia's passion is evident in all of the Pariani products, like his whole Sicilian pistachios and chopped Italian nuts.
Featured in these recipes
More Info
Producer
Country

Italy
Region

Sicily
Size

3.53 oz - 100 g