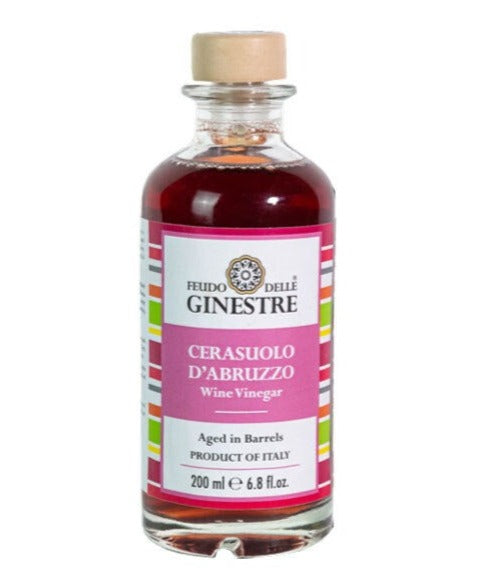 Back to Feudo delle Ginestre
Cerasuolo d'Abruzzo Wine Vinegar from Feudo delle Ginestre
Regular price $10.95 Sale
Out of Stock
Exclusive to Market Hall Foods—Single Variety Rosé Wine Vinegar 
Feudo delle Ginestre Cerasuolo d'Abruzzo Wine Vinegar is vibrant with notes of ripe red berries and a crisp bite. Cerasuolo, meaning "cherry-colored" in Italian, is a style of rosé wine made from the local Montepulciano grape and is unique to Abruzzo (the region even has their own Cerasuolo d'Abruzzo DOC designation). Beloved for its versatility, the wine has become a sommelier's secret weapon—delicate enough to pair with lighter fare, but still structured enough to hold its own against richer cuisines. Think of this Cerasuolo d'Abruzzo Wine Vinegar as similarly adaptable, lending its lush, fruity aromas and tangy punch to all kinds of dishes. 
How to use
This wine vinegar's medium body and pleasant tartness makes it a great all-purpose bottle. Use Feudo delle Ginestre Cerasuolo d'Abruzzo Wine Vinegar for vinaigrettes, deglazing, mignonette sauce or pickling. For a simple dessert in no time, sprinkle wine vinegar over cherries with a pinch of sugar and serve the macerated fruit over sweetened mascarpone.
About the producer
Our buyers were thrilled when they found Feudo delle Ginestre's fruity and balanced vinegars. These single-variety wine vinegars from Abruzzo can only be found here at Market Hall Foods. The Giovanneli family behind the Feudo delle Ginestre label makes their vinegar from organic estate-grown wine. Based in the province of Chieti, the family farms local wine grape varieties that are traditional to the area. As a result of barrel aging, each vinegar retains the unique aromas of each wine, but inherits a tart pluck, perfect for adding pop to all kinds of cooking.
More Info
Producer
Country

Italy
Region

Abruzzo
Size

6.8 oz - 200 ml