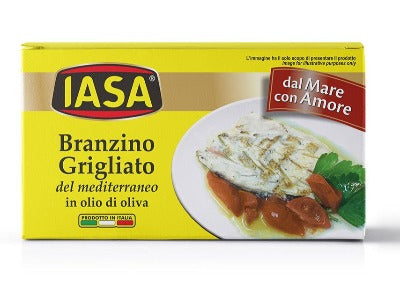 Back to Back in Stock
Branzino Grigliato in Olive Oil from IASA
Ittica Alimentare Salerno (IASA)
Regular price $11.95 Sale
In Stock
Grilled Mediterranean Sea Bass Packed in Olive Oil
Branzino (also known as Mediterranean sea bass)—long prized by people through Europe and a central part of the Mediterranean diet—is known for its pristine white fillets and delicate, slightly sweet flavor.
To make this delicacy, the folks at IASA—producer of some of our favorite Italian anchovy products—start with sustainably farmed branzino fished from waters off the coast of Campania. The fish is cleaned, gently grilled and hand-packed in tins with mild olive oil, which allows the subtle smokiness and nuanced flavor of the fish to come through. IASA's recipe is homage to the tradition of fisherman grilling fresh-caught branzino and drenching the fillets with olive oil.
How to use
IASA's grilled brazino's soft smokiness calls out for simple preparations—serve on grilled crostini drizzled abundantly with olive oil and a sprinkle of fleur de sel, enjoy over lightly dressed greens or gently flake and toss with Lemon Egg Fettuccine, halved cherry tomatoes and chopped parsley.
Keep a couple tins on hand for easy yet satisfying pantry-to-table meals. Serve grilled branzino over cooked Royal Corona beans and top with a quick sauce of chopped green olives, capers, IASA hot peppers and a generous pour of EVOO. We've also been known to stand in the kitchen and eat these exquisite fillets right out of the tin (and that's okay too!).
Awards
2018 Specialty Food Association sofi™ Award: Best New Product, and Silver Award winner
Featured in these recipes:
More Info
Producer
Country

Italy
Region

Campania
Size

145 grams (5.1 ounces)