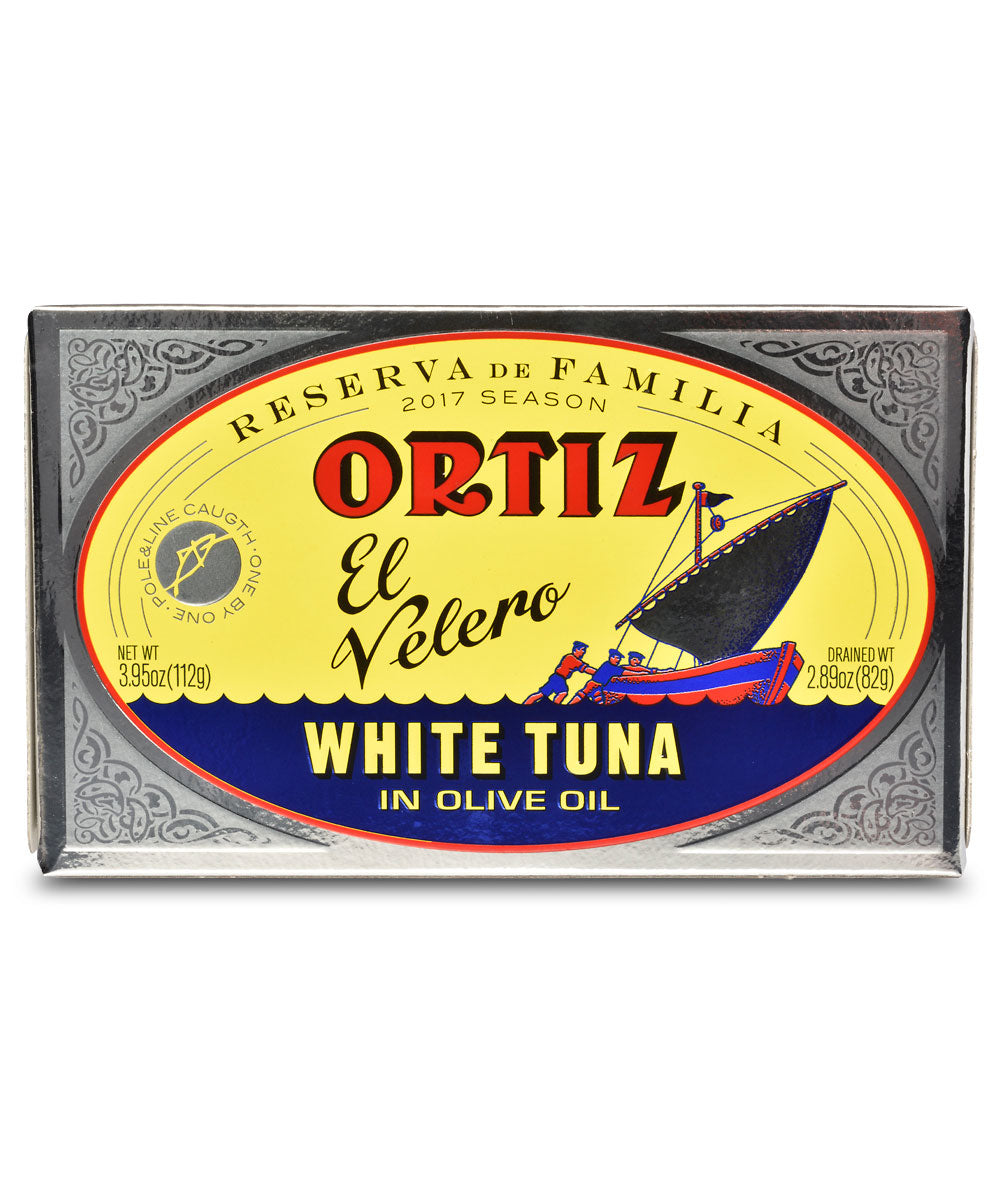 Back to The Summer Spanish Sale
Family Reserve Bonito del Norte Tuna from Conservas Ortiz
Regular price $0.00 $10.95 Sale
Out of Stock
Vintage 2021 Spanish White Tuna Packed in Olive Oil
Bonito del Norte tuna (white tuna)—one of renowned Spanish fish producers' best selling tinned fish—is prized for its rich, meaty texture and subtle briny flavor of the sea. These fish are sustainably line-caught, cooked in seawater and hand-packed in olive oil, all within a 24-hour period.
Conservas Ortiz's Reserva di Familia Bonito del Norte is then aged in the tin for a year plus (their classic Bonito del Norte tuna—you know, the one in the bright yellow tins—is aged for 3 months). The extra "cellar" aging time allows the olive oil to transform the fish into something truly special—rich in tuna flavor with a smooth, supple texture and tender, flaky bite. 
How to use
Family Reserve Bonito del Norte Tuna's flavor is stunning in the simplest of preparations. It is gorgeous piled on grilled slices of bread and garnished with an extra drizzle of Spanish extra virgin olive oil and a spritz of lemon or served on top of sliced boiled potatoes. Or for an effortless yet showstopping starter, toss the tuna and its olive oil with chickpeas and finish with thinly sliced spring onions, an extra drizzle of EVOO and fried capers. 
About the producer
For more than 100 years and through five generations, the Ortiz family has been committed to traditional, sustainable fishing and preserving techniques. For example, when, every summer, huge shoals of white tuna appear off the northern coast of Spain in the Bay of Biscay, the Conservas Ortiz fishermen line-catch every fish individually. It's a slow, labor-intensive process that helps to protect marine ecosystems. All Conservas Ortiz products, from anchovies to ventresca tuna, are carefully prepared and packed in olive oil so that, much like a fine wine, they actually improve over time.
More Info
Producer
Country

Spain
Size

3.95 ounces (112 grams)