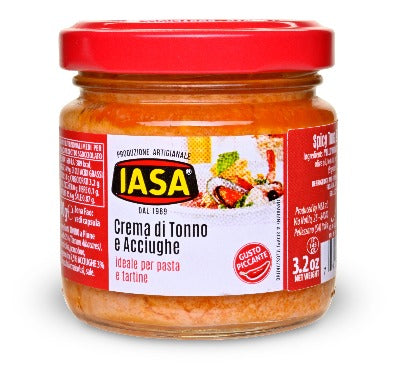 Back to Some Like it Hot
Spicy Tuna and Anchovy Spread from IASA
Ittica Alimentare Salerno (IASA)
Regular price $8.95 Sale
In Stock
Italian Tuna and Anchovy Spread with Hot Peppers 
IASA purées pieces of yellowfin tuna with their own Anchovy Fillets, Hot Pepper and olive oil into this spreadable crema. This condiment is a handy shortcut to bold flavor in little time—delivering a concentrated umami flavor with a subtle tingle of heat. 
Ingredients: Yellowfin tuna, olive oil, tomato, hot pepper, anchovies, salt.
How to use
Try IASA Spicy Tuna and Anchovy Spread over crostini for a quick appetizer or use it as a dip with crudités and Danieli Taralli Crackers. Slather onto sandwiches or dilute with extra virgin olive oil and toss with pasta. Or, spice up your Caesar salad by substituting a teaspoon of IASA Spicy Tuna and Anchovy Spread for anchovy fillets in the dressing.
About the Producer
Because of its close proximity to the sea, nearly every family in Cetara, a village tucked away in a small cove of the Amalfi Coast, has a connection to it. One of these families is the di Mauro family. Francesco di Mauro, a retired Navy Captain, founded Ittica Alimentare Salerno (IASA) and was among the first companies to preserve the bounty of tuna and anchovies brought in by the local fishermen.  Today, Francesco's dynamic sons and daughter manage IASA. During the fishing season, April through September, the company employs a team of 50 local workers. IASA is the only company in Italy that does most of the work of packing the anchovies by hand - Gutting and cleaning the fish, placing layers of anchovies in drums with sea salt, and hand packing the anchovies in jars. 
More Info
Producer
Country

Italy
Region

Campania
Size

3.2 oz - 90 grams