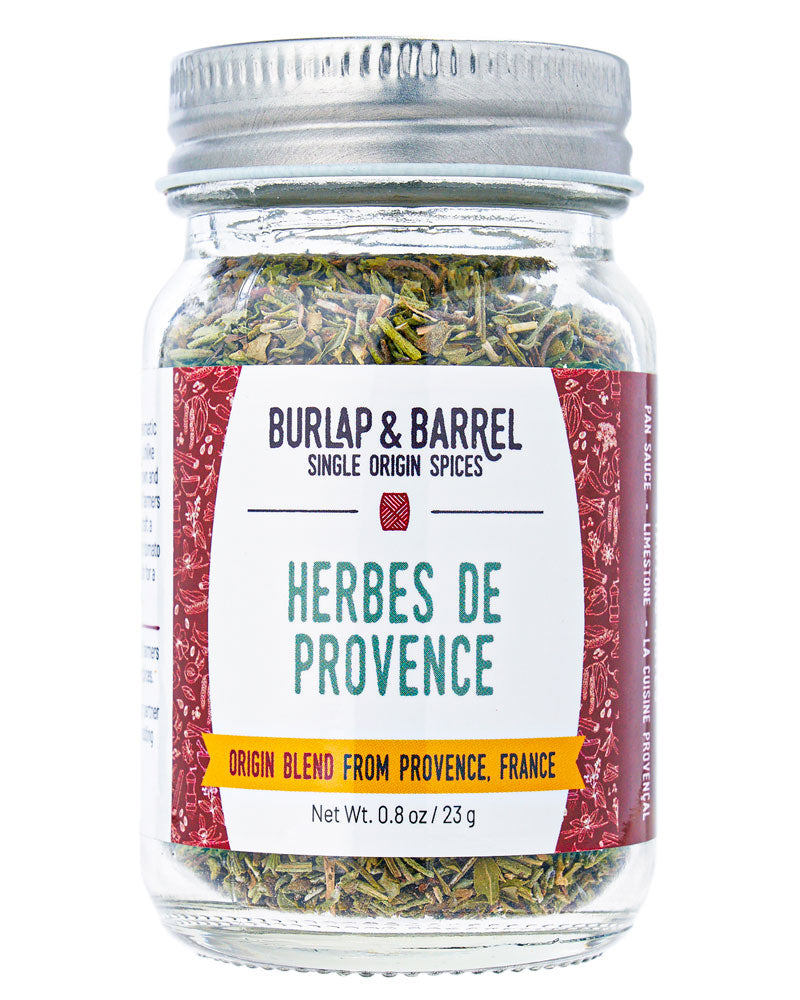 Back to New
Herbes de Provence from Burlap & Barrel
Regular price $9.95 Sale
In Stock
Believe it or not, not all Herbes de Provence sold in the United States actually comes from Provence. An outlier in the spice industry, Burlap & Barrel partners with a farming cooperative near Avignon, in the Provence region, who grow the heirloom varieties of thyme, oregano, rosemary and savory that are dried and blended to make this true Herbes de Provence. 
How to use
Herbes de Provence is a fragrant, all-purpose seasoning that appears throughout Southern French cuisine, often rubbed over roasted chicken, layered between tomatoes and eggplants in ratatouille or in marinades for goat cheese and olives. We use Burlap & Barrel's authentic Herbes de Provence just as liberally, whether it's sprinkled over roasted potatoes, rubbed over fish and lamb, or simmered with a big pot of white beans.
About the producer
Burlap & Barrel was founded with the mission to share premium-quality spices with home cooks and professional chefs while rejecting outdated industry norms riddled with countless middlemen, insufficient compensation for farmers and lack of transparency. Through partnering directly with small farms, Burlap & Barrel is able to shorten the supply chain, pay farmers 2-10 times the commodity rate and offer unique, high-quality spices made from historically overlooked plant varieties.
More Info
Producer
Country

France
Region

Provence
Size

0.8 oz - 23 g