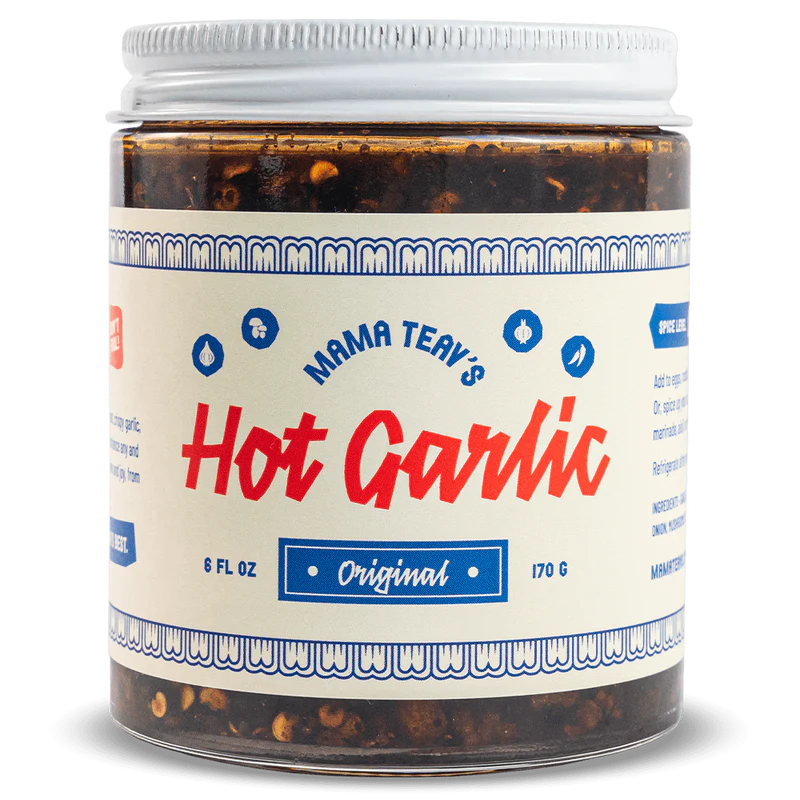 Back to Hot Sauce & Chili Paste
Original Hot Garlic from Mama Teav's
Regular price $19.95 Sale
In Stock
Spicy Chile Crisp Made in California
Mama Teav's Original Hot Garlic was born out of a brother and sister's love and appreciation for their mother's Cambodian home cooking. This spicy condiment stars organic, California-grown garlic coarsely chopped and fried in grapeseed oil until golden and crispy. Its pronounced heat comes from fire-roasted Cambodian chiles while a supporting cast of umami-laden spices, including mushroom powder and celery salt, provide a savory backdrop. This crunchy, garlicky and versatile condiment can be added to anything in need of a fiery kick. 
For a more mellow spice, try Mama Teav's Mild Hot Garlic. 
How to use
Use Original Hot Garlic as your go-to condiment to spice up countless meals. Drizzle over steamed rice, swirl over hummus, dab it onto pizza and so much more. 
About the producer
"Mama" is Kunthara Teav, mother to siblings and co-founders of Mama Teav's, Christina and Anthony. In the late 1970s, Kunthara escaped persecution in Cambodia and settled in California, where she nurtured her love for cooking, a passion that both of her children inherited. After spending years as professional chefs in some of the Bay Area's most lauded restaurants, Anthony and Christina returned to their mother's kitchen, drawing inspiration from her dishes including her hot garlic. Made in Oakland, California, Mama Teav's is a celebration of family, resilience, community and Cambodian-American identity.
More Info
Producer
Country

United States
Region

Oakland, California
Size

6 oz - 170 g