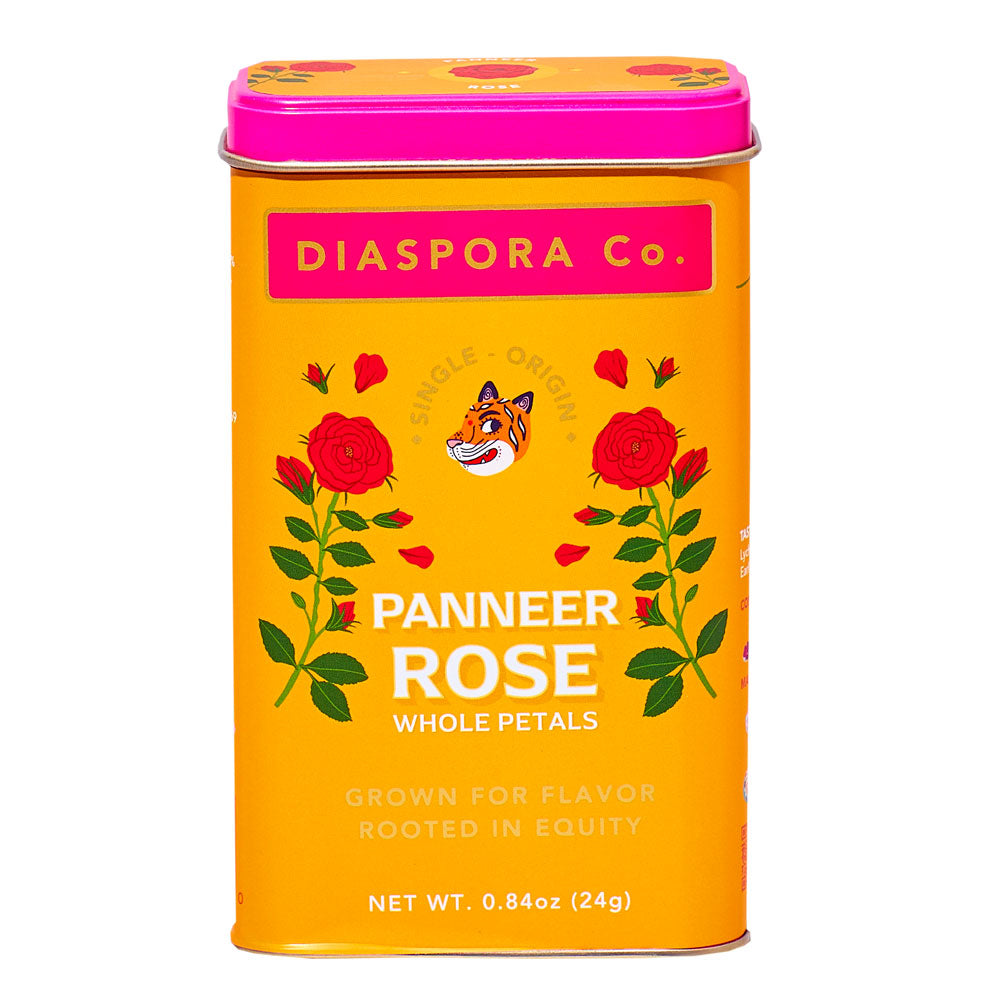 Back to Herbs & Spices
Panneer Rose Petals from Diaspora Co.
Regular price $0.00 $16.95 Sale
In Stock
These magenta-hued Panneer Rose petals, also known as Damask Rose, are organically grown on a small farm led by Parvathi Menon in Denkanikottai, Tamil Nadu in southern India. These whole rose petals are fragrant with floral and fruity notes that are reminiscent of lychee and nectarine. Cultivating these ultra-delicate roses without the use of pesticides is no small feat, taking these farmers two years to perfect. In order to not damage the flower, Menon and her team also developed a unique solar-powered dehydration process that gently locks in the rose's color and aromas while it's in full bloom. 
How to use
Bright pink Panneer Rose petals make an eye-catching garnish for cakes and cookies as well as savory dishes like roasted lamb or cooling bowlfuls of raita or mast-o khiar. When we want the delicate florality of Panneer Rose to take center stage, we steep the petals in simple syrup or cream and use the infused liquid to soak sponge cakes or make desserts like custards, panna cotta or ice cream.
About the producer
Sana Javeri Kadri, founder of Diaspora Co., is changing the way the supply chain works in the spice industry. Her goal is to put money, equity and power back into the hands of the farmers by cutting out the middle man and decolonizing the commodity spice trading system.
Sana grew up in Mumbai, India and moved to America to attend college. After graduating, she began working as the marketing manager for a grocery store in the San Francisco Bay Area. During her time there she realized that the sourcing of particular products, like chocolate and coffee, was becoming more and more transparent to retailers and customers, but that was still not the case with spices. This fueled Sana's desire to bring the spices she grew up with to the American market and create a better, more equitable spice trade model focused on flavor, sustainability, heirloom seeds and empowering farmers.
Sana started her journey with a five-month trip to India, where she learned about the spice industry and begin working with the Indian Institute of Spice Research (a non-profit agricultural research facility that works with farmers to promote sustainable and profitable spice production). Through this institute, she began learning about turmeric cultivation and was also introduced to farmers growing heirloom varietals of the spice. She returned to Oakland and after much hard work launched her first spice stateside: Pragati Single-Origin Heirloom Turmeric. 
More Info
Producer
Country

India
Region

Denkanikottai, Tamil Nadu
Size

.84 ounces (24 grams)
Harvest Date

2023