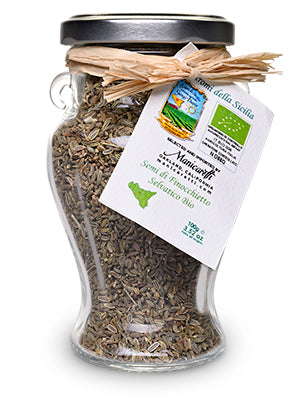 Back to Herbs & Spices
Organic Sicilian Fennel Seeds from Gangi Dante
Regular price $16.95 Sale
In Stock
Whole Wild Fennel Seeds from Italy
Fennel seeds bring warm, licorice-like notes to all kinds of dishes both savory and sweet. Fennel grows wild across the Gangi family's organic farm and at the end of summer, the plants are harvested and left to slowly dry. These wild fennel seeds radiate an intense, herbaceous flavor similar to anise and despite their bold profile, they remain incredibly versatile.
How to use
Crush, grind or toast the seeds to coax out their pungency and use them to add depth to tomato sauces, braises or curries. A classic pairing with pork, fennel seeds are responsible for the signature sweet note found in Italian sausages and porchetta seasoning. Wild fennel seeds can also be used for desserts and drinks. Bake fennel seed biscotti or combine with Aranya Black Pepper and Kandyan Clove from Diaspora Co. along with cardamom, ginger and cinnamon to make your own chai tea mix.
About the producer
Azienda Agricola Gangi Dante, a family-run business, specializes in farming and preserving local varieties of herbs and spices using traditional methods. Their certified organic 80-acre farm is located at the base of Sicily's Madonie Mountains, known for its rugged terrain and the nature preserve Madonie Park. The park creates a unique environment, providing not only a beautiful natural landscape, but also protects the area's ecosystem and village culture. Maintaining this balance inspires Gangi Dante to bridge local traditions with modern approaches to sustainability—like running their entire farm on solar power—enabling them to share their authentic Sicilian flavors.
More Info
Producer
Country

Italy
Region

Sicily
Size

3.52 oz - 100 g