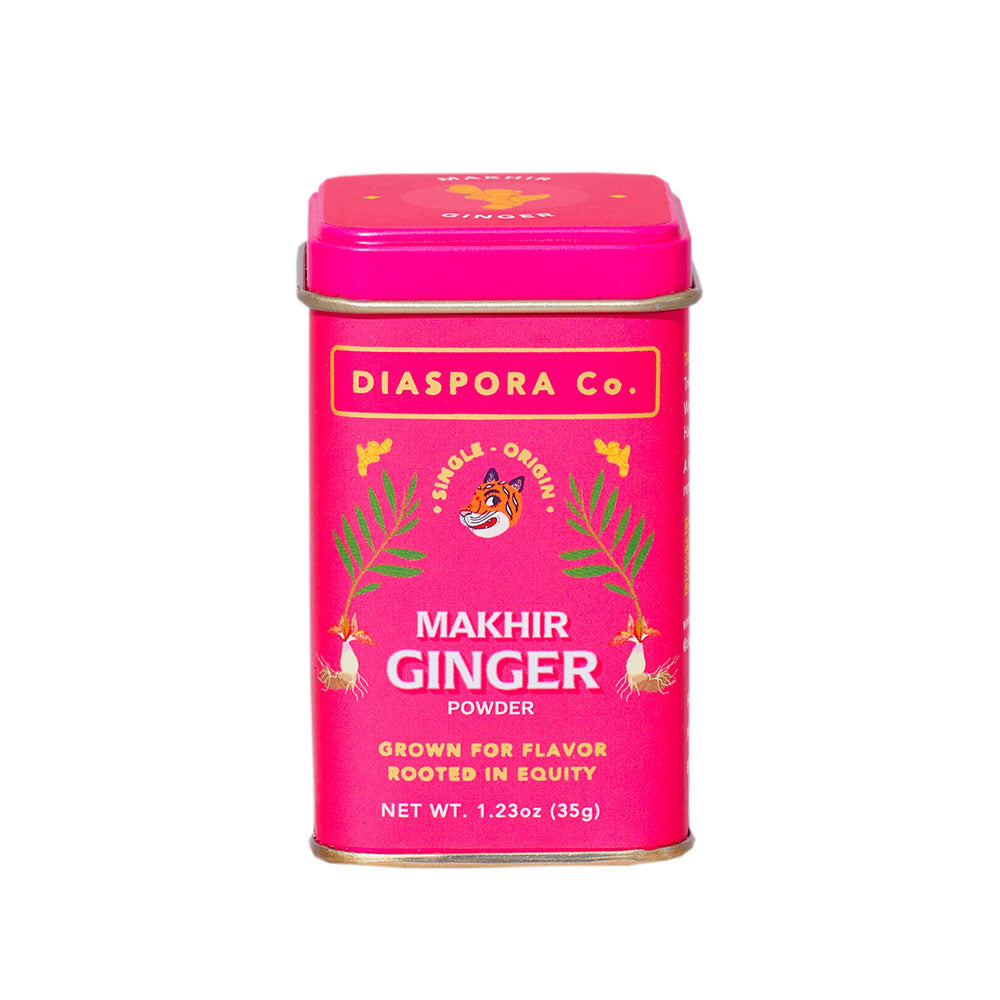 Back to Diaspora Co
Makhir Ginger from Diaspora Co.
Regular price $0.00 $12.95 Sale
Out of Stock
Stick your nose in this tin of Diaspora Co. ground Makhir ginger powder and breathe in the warm scent of a buttery gingerbread cookie. Grown by a small group of organic farmers in the Jaintia hills in northeastern India, Makhir is an heirloom variety of ginger known for its full-bodied and spicy warmth. Brimming with a caramel-like sweetness, plus floral and fruity notes of lemongrass and ripe persimmon, this ground ginger adds oomph to baked goods, dry rubs and so much more. 
How to use
Just as fresh ginger walks the line between savory and sweet, ground ginger does the same. Use Makhir Ginger to add a warming zing to tagines, lamb meatballs, or blend with other spices to create your own homemade jerk seasoning or shichimi togarashi. This particularly bold ginger powder would also make irresistible gingerbread, ginger snaps and pumpkin pies. For a festive Italian-inspired dessert, try Makhir Ginger in our recipe for Pumpkin Polenta Budino with Caramelized Apples & Walnuts.
About the producer
Sana Javeri Kadri, founder of Diaspora Co., is changing the way the supply chain works in the spice industry. Her goal is to put money, equity and power back into the hands of the farmers by cutting out the middle man and decolonizing the commodity spice trading system.
Sana grew up in Mumbai, India and moved to America to attend college. After graduating, she began working as the marketing manager for a grocery store in the San Francisco Bay Area. During her time there she realized that the sourcing of particular products, like chocolate and coffee, was becoming more and more transparent to retailers and customers, but that was still not the case with spices. This fueled Sana's desire to bring the spices she grew up with to the American market and create a better, more equitable spice trade model focused on flavor, sustainability, heirloom seeds and empowering farmers.
Sana started her journey with a five-month trip to India, where she learned about the spice industry and begin working with the Indian Institute of Spice Research (a non-profit agricultural research facility that works with farmers to promote sustainable and profitable spice production). Through this institute, she began learning about turmeric cultivation and was also introduced to farmers growing heirloom varietals of the spice. She returned to Oakland and after much hard work launched her first spice stateside: Pragati Single-Origin Heirloom Turmeric. 
More Info
Producer
Country

India
Region

Khatkasla, Meghalaya
Size

1.23 ounces (35 grams)
Harvest Date

2023