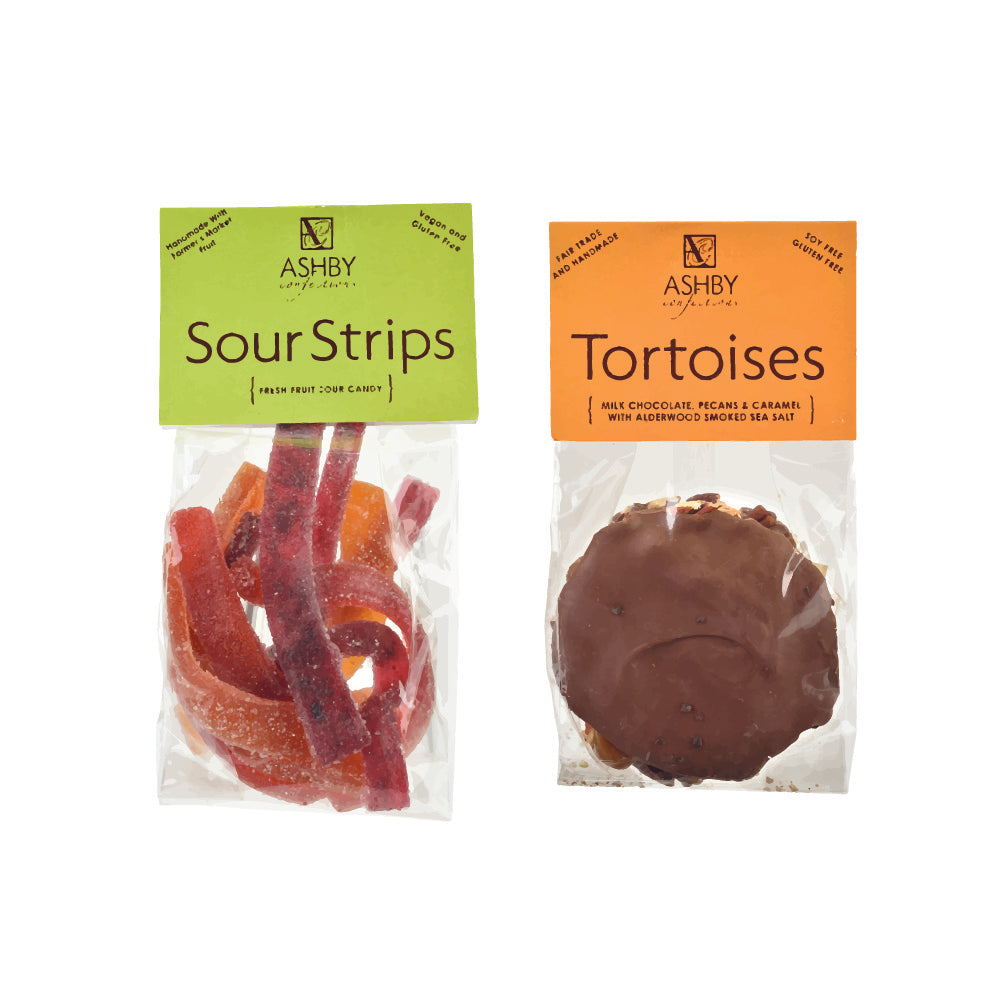 Back to Confections
Chocolate Tortoises and Sour Fruit Strips from Ashby Confections
Regular price $21.50 Sale
Out of Stock
Handmade Confections
Why choose when you can have both? Our staff loves Ashby Confections Chocolate Tortoises and Sour Fruit Strips so much we decided to bundle the joy and take 10% off. 
Chocolate Tortoises with Pecans, Caramel and Smoked Sea Salt
One bite and you'll be in chocolate caramel heaven. Crafted with fair trade milk chocolate, these tortoises are the perfect combination of flavors, from the sweet, creamy and buttery notes of the caramel to the deep, roasted nuttiness of the pecans. A sprinkle of smoked Alderwood sea salt finishes everything off!
Sour Fruit Strips
Ashby Confections' sour fruit strips have all of the nostalgia of the beloved childhood sweet with none of the artificial flavors or colorings. Entirely handmade with locally sourced organic fruit, these California-crafted sour candies are coated in a blend of cane sugar and citric acid, producing just the right balance of zing and sweetness. There is nothing artificial about what goes into these tart and chewy strips. Flavors vary by season and what local fruit is available.
About the producer
Founder of Ashby Confections, Jennifer Ashby, has brought her passion for high-quality products and creating something beautiful truly come to life. She has not only made a place for people to treat themselves to an elevated confection experience but has also made it one where you can see first-hand the true artwork that goes into each chocolate, caramel or candy. Your taste buds will appreciate the love, care and old-world method that makes Ashby's Confections the unique and desired confectionery that it is today.
More Info
Producer
Country

United States
Region

California
Size

one package of each confection