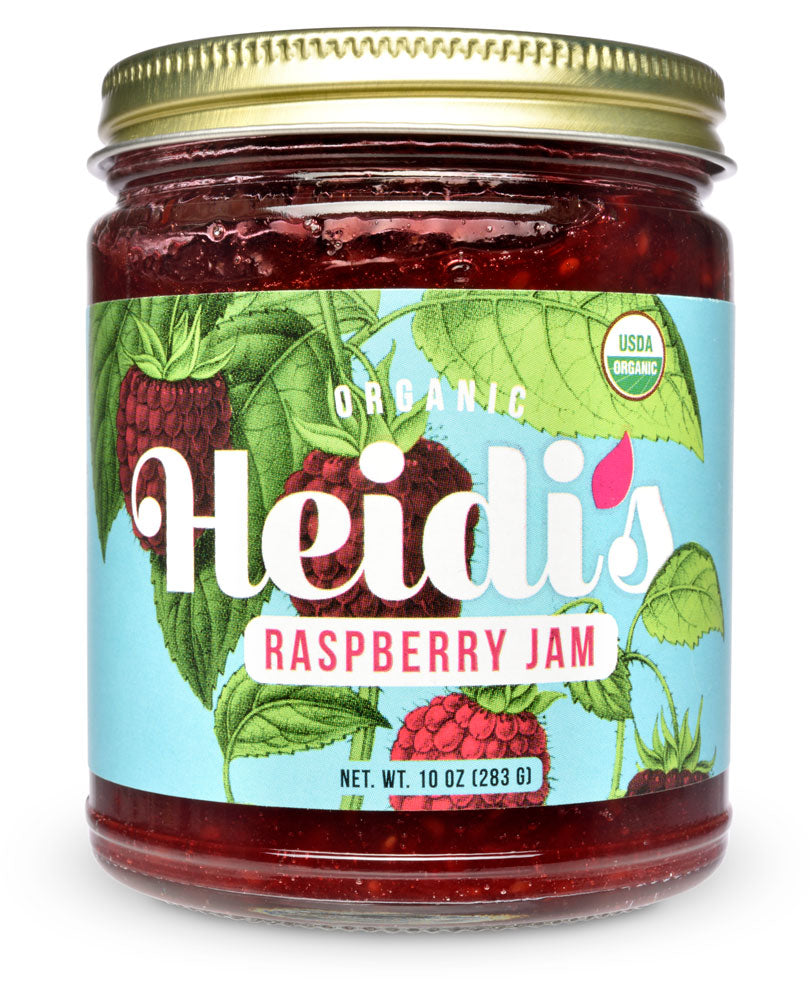 Back to Back to School
Organic Raspberry Jam from Heidi's
Regular price $13.95 Sale
In Stock
Raspberry Jam from the Rio Grande Valley, New Mexico
Heidi's Raspberry Jam is their signature jam for good reason—it's a classic. Made with organic fruit—grown on Heidi's own farm in New Mexico—this jam is bursting with peak-season goodness.
The raspberries are hand-picked and then flash frozen to preserved their vibrant, ripe flavor. To craft their jam, the raspberries are slowly cooked with organic cane sugar and natural fruit pectin (yes, that's all!).  The finished jam is fruit-forward with a round sweetness and delicate acidity from the raspberries.
Looking for more jams from Heidi's? Try their Strawberry Jam, too.
How to Use
Once you pop open the jar, we guarantee it won't be full for long! Use this classic for your classic PB&J sandwich, spread over pancakes or into a bowl of yogurt and granola. Use as a filling for homemade thumbprint cookies or swirl it into scoop of vanilla ice cream topped with vanilla wafer crumbs. Enjoy as a glaze to meats or make your new favorite raspberry salad dressing.
About the Producer
Based in Corrales, New Mexico, Heidi's Raspberry Farm values the quality of their jam first and foremost. All the fruit that goes into each jar is hand-picked to ensure the best and most authentic flavor. The raspberries are always slow cooked in small batches to preserve the natural vitamins and vibrant color of the fruit. Again, keeping to their mission of quality over quantity. The team at Heidi's Farm including Heidi herself, handmake and packages each batch of jam right in her very own kitchen.
Heidi's farm is also committed to sustaining the land to preserve the rich agriculture heritage of the Rio Grande Valley. They work with a local beekeeper to uphold a space for healthy hives in the field, allowing the honeybees to pollinate the raspberry blossoms.
More Info
Producer
Country

United States
Region

New Mexico
Size

10 ounces (283 grams)