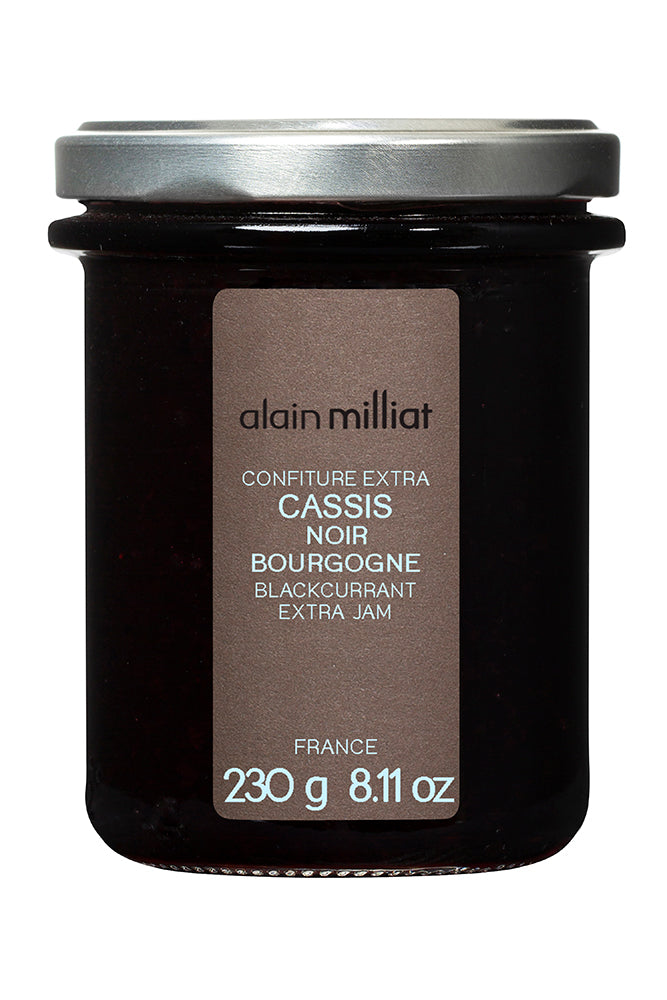 Back to Alain Milliat | French Jams
Blackcurrant Extra Jam from Alain Milliat
Regular price $12.95 Sale
Out of Stock
Confiture Extra Cassis Noir de Bourgogne
Alain Milliat's French blackcurrant jam is made with only three ingredients: blackcurrants grown in Burgundy, sugar and pectin. This classic confiture captures France's beloved cassis de noir—prized for its dark, deep berry flavor, slight tartness and subtle earthy flavor.
Ah, mais oui—what does the extra mean? In France, jams designated as extra contain 50% or more fruit. Alain Milliat's fruit preserves are made with 55% fruit, or in this case, 63 grams of blackcurrants per 100 grams of jam.
Refrigerate after opening.
How to use
Blackcurrant Extra Jam is the parfait addition to teatime. Spread on toast, slather on scones or use as a filling to mini jam tarts. This French-made jam is also great for baking and desserts—use to upgrade your thumbprint cookies, try it as a cake filling or fold into crème pâtissière and pipe into éclairs.
About the producer
In 1983, third generation farmer, Alain Milliat took over his family business in Orliénas, France, near Lyon. M. Milliat spent the next 15 years restoring and cultivating 15 plots of land, planting a variety of fruits and vegetables using traditional farming methods.
In 1997, M. Milliat launched Alain Milliat Jus de Degustation with six juices and nectars highlighting French-grown produce. Now, almost 25 years later, their catalog has grown to include dozens of single-varietal juices and nectars—including non-alcoholic Cabernet and Chardonnay juices, Senga Sengana strawberry nectar and more—plus a selection of jams and condiments.
All of Alain Milliat's products are crafted with the quality, flavor and freshness of the fruit in mind. For their classic French offerings, M. Milliat sources fruit from across the country, working with farmers who are using sustainable, organic and zero-waste growing methods. The fruit is harvested at peak ripeness and transported to their factory in Valence—located in the southeast central Drôme region of France—where it is processed, bottled and jarred. Their products are also crafted with sustainability in mind, too—from energy efficient equipment to bottles created with 70% recycled glass. The fruit pulp leftover from juicing is also recycled and repurposed locally.
More Info
Producer
Country

France
Size

230 grams (8.11 ounces)
Love blackcurrant jam
This was awesome - very strong flavoured