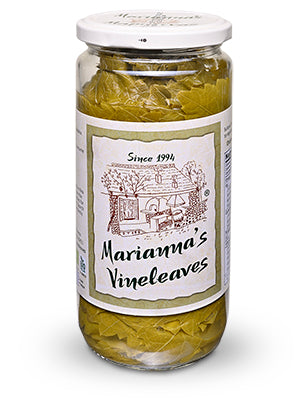 Back to Antipasti & Vegetables
Organic Grape Leaves from Marianna's
Regular price $13.95 Sale
In Stock
Sultana Grape Vine Leaves from Greece
Vine leaves from the Sultana grape variety (also known as Thompson Seedless) are considered the best for cooking. Their broad, strong yet flexible leaves are ideal for making Greek-style dolmas as well as other leaf-wrapped delicacies. 

Marianna's packs this jar with carefully hand-harvested Sultana vine leaves from the Kazakis family's organic vineyard in Nea Gonia, Halkidiki, Greece. Brine preserves the grape leaves' tender, hearty and pliable qualities that makes Sultana leaves so desirable. 
Ingredients: sultana vineleaves*, water, sea salt, citric acid. Refrigerate after opening. *Organic Farming Product.
How to use
Simply rinse the leaves—no blanching required—before wrapping the perfect dolma (vine leaves stuffed with rice and herbs). But no need to stop at rice. Use these grape leaves to wrap quinoa, rounds of goat cheese, fish filets or ground meat. Or, make a Greek-inspired pilaf by cutting the leaves into thin strips and mixing with rice, feta and diced Greek Roasted Red Peppers from Hellenic Farms. 
Read 5 Ways to Cook with Grape Leaves on our blog!
Please Note: These Sultana Grape Leaves are best enjoyed within 4 days of opening the jar—perfect for making a big batch of dolmas! In a hurry? Try Marinna's ready-to-eat Dolmades.  
About the producer
Marianna is the matriarch of the Kazakis family and the namesake of the family-run business based in Halkidiki, Greece. Founded in 1994, Marianna's initially earned acclaim for their family vineyard's Sultana grape vine leaves. Over the last 30 years, Marianna's has expanded their offerings, remaining steadfast in their commitment to only using organic, locally grown Greek ingredients and traditional recipes.
More Info
Producer
Country

Greece
Size

Drained weight 200 g 7.05 oz