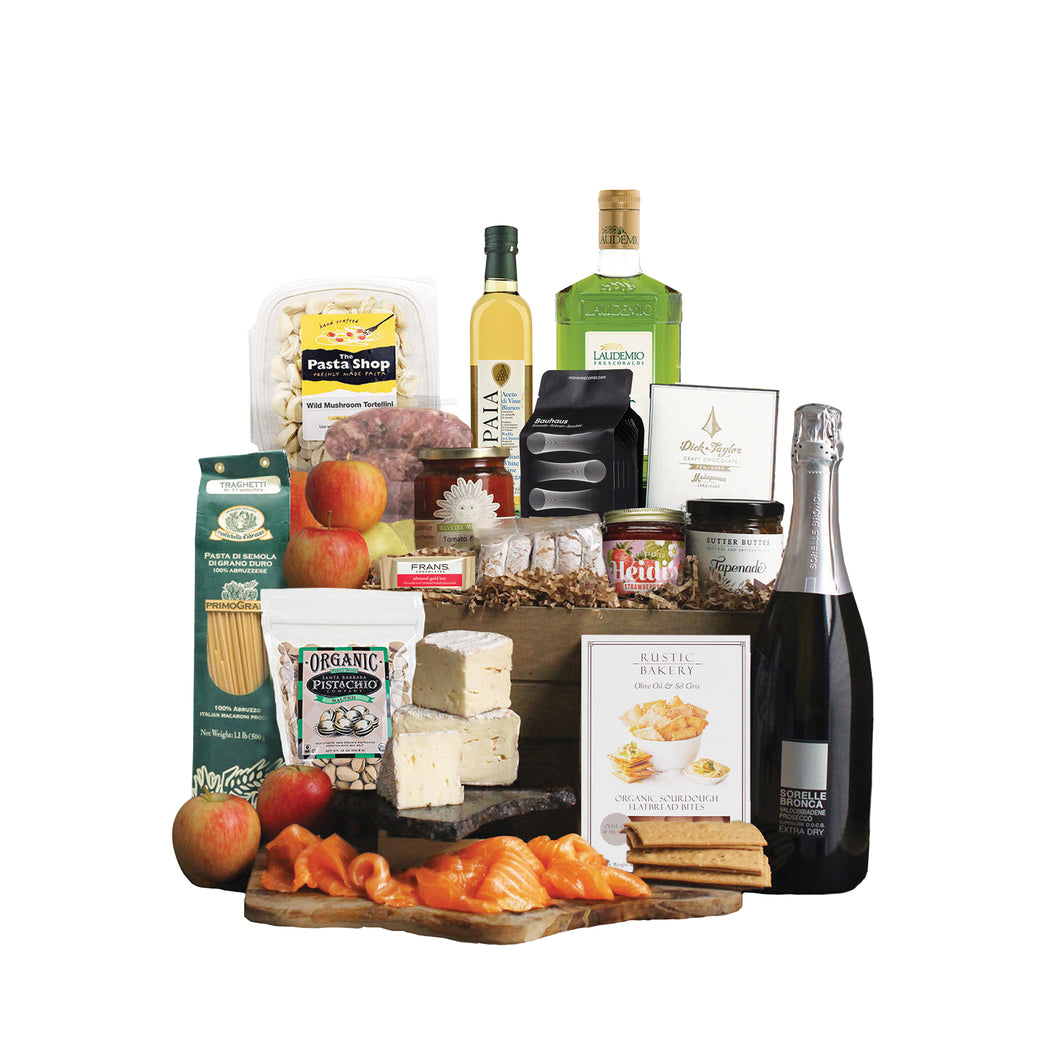 Back to Gift Baskets & Boxes
A Taste of Market Hall
Regular price Sale
In Stock
A mouthwatering journey through the shops of Oakland's Rockridge Market Hall. This basket is a food lover's paradise—filled with pantry essentials, meats and cheese, sweets and more.
Start your tour through Market Hall with freshly roasted coffee from Highwire Coffee Roasters and a couple ricciarelli cookies from Market Hall Bakery. On your next stop, pick up fresh tortellini from The Pasta Shop, as well as kitchen staples from Market Hall Foods like extra virgin olive oil, vinegar, pasta, tomato sauce and jam. Stock up on sweet and savory snacks including heirloom wheat crackers and tapenade, organic nut mix and chocolates.
Don't forget to pause at our cheese counter for a wheel of Mt. Tam triple cream cheese from Cowgirl Creamery. Next, add smoked salmon and fresh Italian sausages from the fish and meat shops before finishing your trip with California-grown fruit from Market Hall Produce and a bottle of bubbles from Paul Marcus Wines.
Packed in a wire hamper basket and tied with a bow (perishable items packed separately in a cooler for shipping), this gift includes:
Frescobaldi Laudemio Extra Virgin Olive Oil
Katz Wine Vinegar
Rustichella d'Abruzzo Long Cut Pasta
Masseria Mirogallo Tomato Sauce
Rustic Bakery Crackers

Sutter Buttes Tapenade
Heidi's Jam

Santa Barbara's Pistachios

Dick Taylor Single Origin-Chocolate Bar
Fran's Chocolate

Highwire Bauhaus Whole Coffee Beans
Ricciarelli Almond Cookies from Market Hall Bakery
Seasonal Fresh Pasta (Ravioli or Tortellini) from The Pasta Shop
One wheel Mt. Tam Cheese from Cowgirl Creamery

1/2 pound Housemade Cold Smoked Salmon from Market Hall Foods
Three Housemade Sweet Italian Pork Sausages from Market Hall Foods
Seasonal Fruit from Market Hall Produce
Bottle of Sparkling Wine from Paul Marcus Wines
Since many of our products are sourced from artisan producers at home and abroad, we sometimes run out of inventory. When this happens, we will substitute items of equal quality, value and good taste.
More Info
Producer
Country

United States
Size

Wire Hamper Gift Basket + cooler