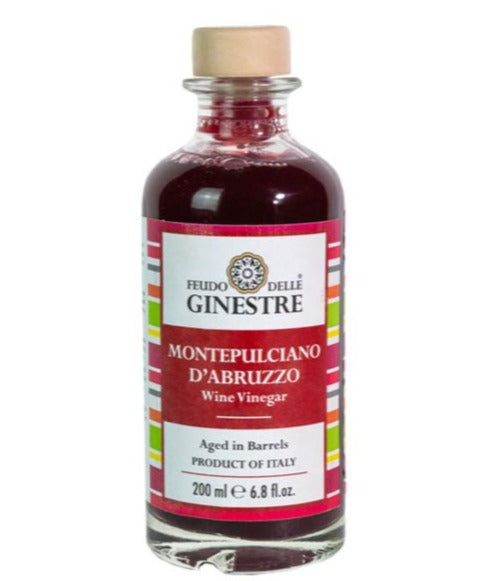 Back to Feudo delle Ginestre
Montepulciano d'Abruzzo Wine Vinegar from Feudo delle Ginestre
Regular price $10.95 Sale
Out of Stock
Exclusive to Market Hall Foods—Single Variety Red Wine Vinegar 
Montepulciano is a wine grape variety native to the southern Italian region of Abruzzo. It's known for producing full-bodied red wines ideal for pairing with rich meats and sauces. Feudo delle Ginestre red wine vinegar is made entirely from Montepulciano d'Abruzzo grapes, and similar to the wine, is bold with notes of black cherry, lending itself well to heartier fare. 
How to use
Add a splash of Montepulciano d'Abruzzo Vinegar to meaty stews or chilis at the end of cooking for a tart lift. Add brightness to sauces like chimichurri or salsa verde. Or try using Feudo delle Ginestre Montepulciano d' Abruzzo Vinegar to make agrodolce, the sweet-and-sour Italian condiment that livens up everything from crispy Brussels sprouts to bone-in pork chops.
About the producer
Our buyers were thrilled when they found Feudo delle Ginestre's fruity and balanced vinegars. These single-variety wine vinegars from Abruzzo can only be found here at Market Hall Foods. The Giovanneli family behind the Feudo delle Ginestre label makes their vinegar from organic estate-grown wine. Based in the province of Chieti, the family farms local wine grape varieties that are traditional to the area. As a result of barrel aging, each vinegar retains the unique aromas of each wine, but inherits a tart pluck, perfect for adding pop to all kinds of cooking.
More Info
Producer
Country

Italy
Region

Abruzzo
Size

6.8 oz - 200 ml