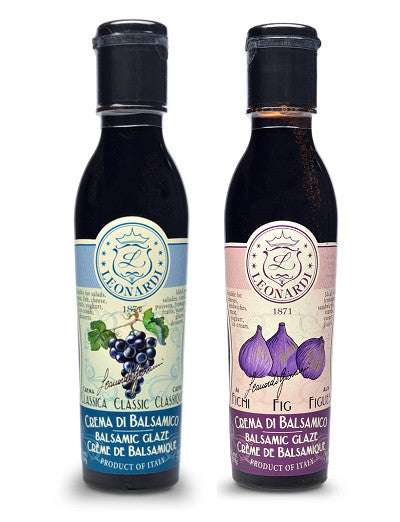 Back to Acetaia Leonardi
Balsamic Glaze Duet from Acetaia Leonardi
Regular price $17.00 Sale
In Stock
Italian Balsamic Syrup and Balsamic Syrup with Fig
Get ready to drizzle! Balsamic Glazes from renowned Italian balsamic producer, Acetaia Leonardi, are made for drizzling over just about everything from ice cream to blue cheese. Plus they come in an easy-to-use squeeze bottle, so pour away.
The classic Balsamic Glaze is made from concentrated grape must blended with aged balsamic vinegar resulting in a tangy balsamic syrup with sweet notes of caramel, dried fruit and raisins. Use this sweet and sour condiment as a finishing flourish for vanilla gelato, panna cotta and even seared duck breast.
Acetaia Leonardi's Fig & Balsamic Glaze has deep caramelized notes with subtle aromas of warm spices and a hint of figgy sweetness. The addition of the fig makes this balsamic glaze ideal a top savory dishes like fois gras, duck confit salad and grilled prosciutto-wrapped figs. Or on the sweeter side, brush on roasted stone fruit finished with a dollop of sweetened mascarpone cheese.
About the Producer:
There are over 300 producers of balsamic vinegar in Modena, but the Leonardi family is truly special. They have been making balsamic vinegar since 1871 and are still one of the few producers to own the land where the grapes grow. Four generations in, the Leonardi family is still making this prized elixir using traditional methods, such as cooking the Lambrusco and Trebbiano grape must in a copper cauldron and aging the vinegar in specific kinds of wooden barrels. The result is perfectly balanced vinegar worthy of the namebalsamico.
Purchase together and save 10%, or buy individually.
More Info
Producer
Country

Italy
Region

Modena
Size

2 bottles, 7.4 ounces each