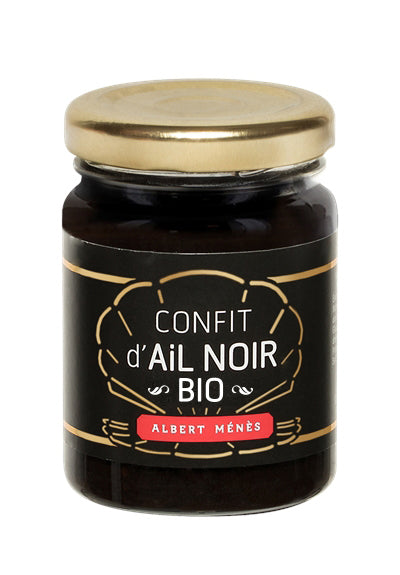 Back to The Great European Getaway: France
Organic Black Garlic Paste from Albert Ménès
Regular price $25.95 Sale
In Stock
Confit d'Ail Noir Biologique
To make Albert Ménès black garlic paste, organic garlic is fermented at a low temperature and high humidity for several dozen days. The result of this slow fermentation process are soft, silky cloves of garlic, black as night and sweet with flavors reminiscent of Agen prunes. The garlic is then puréed into a umami rich paste with subtle notes of caramel and soy.
How to use
A little bit of this paste goes a long way! The sweet and savory notes of Organic Black Garlic Paste from Albert Ménès pair beautifully with pork, beef and wild game. Try adding a few teaspoons to finish the pan sauce for roast beef tenderloin, pan-seared pork chops or crispy-skinned duck breasts. Or, whisk a dollop into a vinaigrette for chicories and top with duck confit.
Looking for something plant-based? Make these caramelized black garlic mushrooms. Sauté a mountain of mixed mushrooms until caramelized. Deglaze the pan with vegetable stock and add some black garlic paste. Toss with pasta, spoon over a seared cauliflower steak or use as a topping for crostini slathered with whipped ricotta.
And, how to the folks at Albert Ménès like to use this sumptuous paste? With all things from the sea like John Dory, halibut and scallops. We can imagine a few spoonfuls whisked into a lemony aioli would be beautiful alongside a tower of seafood, such as langoustines, whelk, steamed clams, prawns and crab.
About the producer
Founded in 1921, Maison Albert Ménès has been distributing fine grocery products, founded on quality and authenticity, in France for almost 100 years. After traveling in the French navy, Albert Ménès—a native of Brittany, France—had a dream of bringing Parisians the Breton flavors of his childhoods, as well as the flavors of his travels.
Now, Maison Albert Ménès works with small crafters and farmers across France, distributing over 400 traditional products that highlight the best of regional French ingredients. Stock your kitchen with classic spice blends like Persaillotte and Herbes de Provence to jams and condiments like Drôme garlic purée, Périgord walnut kernels and Mirabelle plum jam.
More Info
Producer
Country

France
Size

90 grams (3.18 ounces)