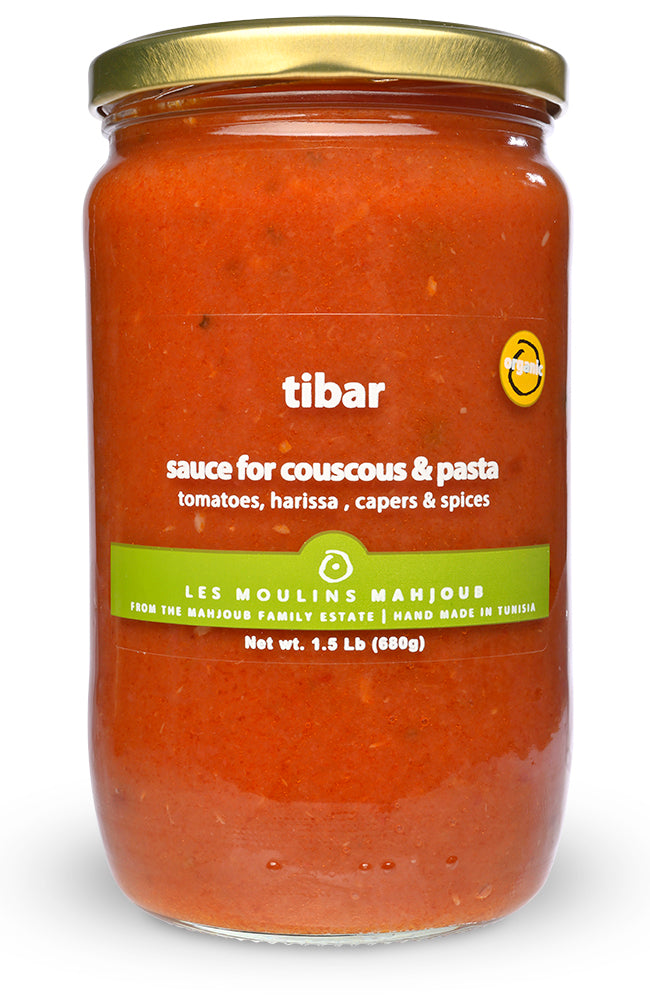 Back to Moulin Mahjoub
Organic Tibar Sauce from Moulin Mahjoub
Regular price $12.95 Sale
Out of Stock
Tunisian Cooking Sauce for Tagines, Couscous and Pasta
Have the flavors of Tunisia at your fingertips with Moulin Mahjoub's Tibar cooking sauce. This tomato sauce is inspired by the most-loved ingredients of the Tibar region, located in central northern Tunisia. Flavored with harissa and salted mountain capers, the sauce is bright and lively with a round, peppery heat from the harissa and a briny kick from the capers.

How to use
For dinner in under an hour, sauté cubes of butternut squash in olive oil until they start to turn golden, about 5 minutes at medium high heat. Add a jar of Tibar sauce and a can of drained chickpeas, then reduce the heat to low and let simmer until the squash is cooked through and tender, about 25–30 minutes. Spoon over a bowlful of Rustichella d'Abruzzo's farro couscous. 
Don't stop at a sauce for couscous—spread this Tunisian sauce on pizza or flatbread, try it as a base for braised chicken thighs or use it to make Shakshouka (eggs cooked in a peppery tomato sauce).
About the producer
The Mahjoub family farms the soil in the lush Mejerda Valley of Tunisia, located on the southern shores of the Mediterranean. It is here that they produce handcrafted products under the Les Moulins Mahjoub label and are known for their steadfast commitment to artisan standards and sustainable farming. The Mahjoubs are recognized in the culinary world as one of the premier producers of extra virgin olive oils, table olives, and condiments.
More Info
Producer
Country

Tunisia
Size

680 grams