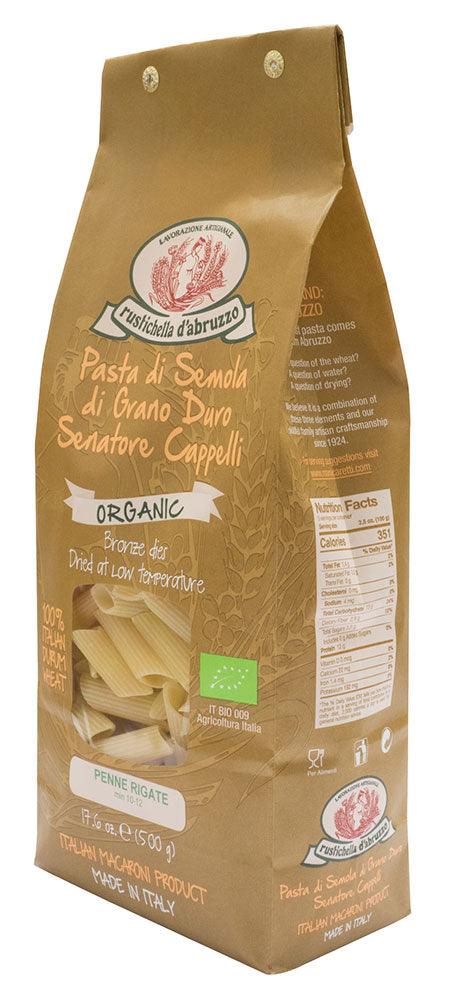 Back to Heritage Grain Pasta by Rustichella d'Abruzzo
Organic Senatore Cappelli Penne Rigate Pasta by Rustichella d'Abruzzo
Regular price $9.95 Sale
In Stock
Made with 100% Italian-Grown Organic Heirloom Wheat
Senatore Cappelli—an heirloom durum wheat varietal, selected in 1915 by agronomist Nazareno Strampelli—is known for its bright amber hue, subtle sweet, malty flavor and pleasing supple texture (think freshly baked bread).
Harvested in the fall, this autumnal variety is well-suited for organic farming due to its considerable height, which can reach about 1.5 meters (that's 4 feet)!
Fun fact: This authentic Italian grain was dedicated to Marchese Raffaele Cappelli from Abruzzo, Senator of the Italian Kingdom and promoter of the 20th century Agrarian Reform.
How to use
Senatore Cappelli Penne Rigate—made with 100% Italian-grown organic wheat and pure spring water—is one of Italy's most popular cuts (penne meaning "quills" and rigate meaning "with ridges"). Perfect for catching sauce, serve this organic pasta with sauces of all types, from classics like marinara and bolognese to pesto and baked pasta preparations. 
The pasta's nuanced flavor also pairs beautifully with whatever produce is in season—toss with cubes of butternut squash and crispy sage leaves in the fall, sautéed Tuscan kale in the winter, asparagus and fava beans in the spring and hand-crushed fresh tomatoes and basil come summer. 
Hungry for more heirloom wheat pasta cuts from Rustichella d'Abruzzo? Try their Organic Saragolla Rigatoncini, Organic Saragolla Spaghetti, Organic Senatore Capelli Orecchiette and Organic Senatore Capelli Linguine.
About Rustichella d'Abruzzo
In 1924, Gaetano Sergiacomo started making rustic pasta using the whole wheat flour produced at his family's stone mill in the small town of Penne in Abruzzo. In 1981, his daughter, Nicolina Peduzzi, decided to revive the pastificio, (pasta factory) naming the new product line Rustichella d'Abruzzo. Soon after, Nicolina's adult children Gianluigi and Stefania joined the family business, and within a few years, the small pastificio had grown into one of the most extensive artisanal pasta lines in Italy. Today, Rustichella d'Abruzzo offers a diverse selection of pasta, pasta sauce, holiday goods and more.
More Info
Producer
Country

Italy
Region

Abruzzo
Size

1.1 pounds (500 grams)