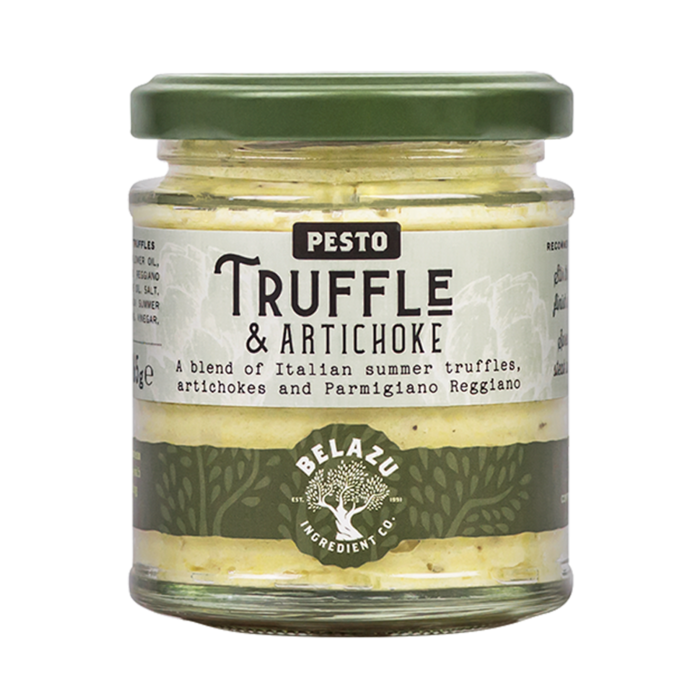 Back to Grilling Season Essentials
Truffle and Artichoke Pesto from Belazu Ingredient Co.
Regular price $10.95 Sale
Out of Stock
Italian-Inspired Spread for Truffle Lovers
It may be called a pesto, but this is not your traditional basil-packed pesto alla Genovese. Instead, Britain's Belazu combines three of Italy's other signature flavors: black summer truffles, artichokes and Parmigiano-Reggiano to create this smooth and richly flavored spread. The chefs behind Belazu expertly balance the supercharged umami of truffles with the earthy and herbaceous flavor of artichokes, while the addition of aged Parmigiano-Reggiano gives this spread an extra dose of savory complexity.
Black Summer Truffles from Piedmont and Artichokes from Puglia.
Ingredients: artichokes, sunflower oil, water, pine kernels, parmigiano reggiano cheese, evoo, salt, garlic puree, black pepper, summer truffle slices, truffle flavoring, vinegar and acidity regulator: lactic acid.


How to use
Spread Belazu's Truffle & Artichoke Pesto over pizza dough topped with mozzarella, mushrooms and olives or toss with large spiral-shaped Fusilloni Giganti Pasta from Rustichella d'Abruzzo and finish off with an extra helping of Parmigiano-Reggiano. For an easy, no-chop truffle and artichoke risotto, stir this spread into a simmering pot of Arborio Rice from Principato di Lucedio.
About the producer

Childhood best friends Adam Wells and George Bennell have been sourcing small-production Mediterranean ingredients for England's finest restaurants since 1991. Inspired by the simple premise that home cooks also deserve these same quality ingredients, Belazu Ingredient Company officially formed in 2000. A certified B-Corp, Belazu is committed to rigorous standards of social and environmental sustainability.
More Info
Producer
Country

United Kingdom
Size

165 g