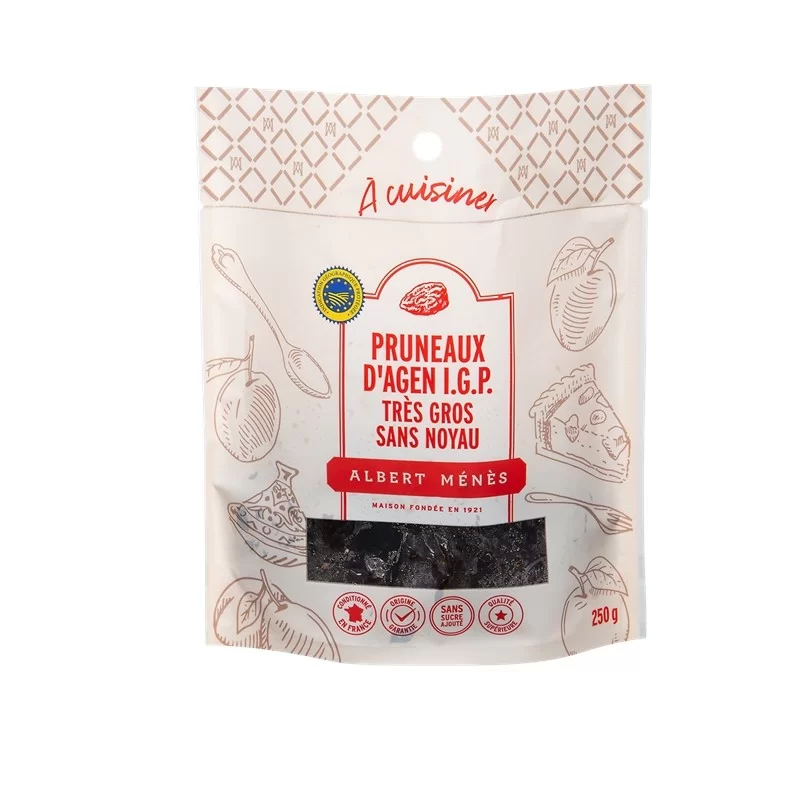 Back to Candied Fruit & Dried Fruit
PGI Giant Agen Prunes from Albert Ménès
Regular price $10.95 Sale
Out of Stock
Pitted and Dried French Ente Plums
To make these pruneaux d'Agen, Ente plums are specially selected for their large size and  harvested at peak-ripeness. The plums are then slowly oven-dried to concentrate their sweetness before being rehydrated to achieve a soft, sumptuous bite.

The town of Agen, in the southern region of Lot-et-Garrone is known as the prune capital of France. The prunes from this area have been prized for centuries, officially earning Protected Geographical Indication (PGI) status in 2002. This designation provided by the French government ensures that the growing, harvesting and drying processes are completed under measures of strict quality control. 
How to use

Albert Ménès PGI Giant Agen Prunes lend their ripe flavor to all kinds of dishes, both sweet and savory. Cook these prunes into a sauce for slow-roasted duck, bake into an Agen prune tart, or try them in our recipe for Far Breton, a traditional pudding cake from Brittany. And of course, they also make a delicious snack on their own, paired with a glass of Armagnac, or served on a cheese platter.
About the producer
Founded in 1921, Maison Albert Ménès has been distributing fine grocery products, founded on quality and authenticity, in France for almost 100 years. After traveling in the French navy, Albert Ménès—a native of Brittany, France—had a dream of bringing Parisians the Breton flavors of his childhoods, as well as the flavors of his travels.
Now, Maison Albert Ménès works with small crafters and farmers across France, distributing over 400 traditional products that highlight the best of regional French ingredients. Stock your kitchen with classic spice blends like Persaillotte and Herbes de Provence to jams and condiments like Drôme garlic purée, Périgord walnut kernels and Mirabelle plum jam.
More Info
Producer
Country

France
Region

Provence
Size

25 grams (0.89 ounces)