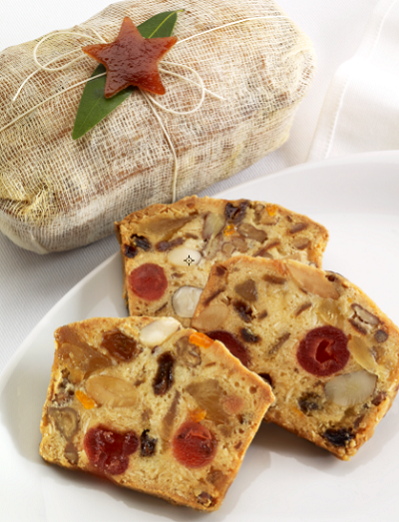 Back to The 2023 Holiday Shop
White Fruitcake from Robert Lambert
Regular price $62.00 Sale
Out of Stock
Cognac Soaked Fruitcake Loaded with Candied Fruits
Johnny Carson once said, "The worst gift is a fruitcake. There is only one fruitcake in the entire world, and people keep sending it to each other." If there could only be one fruitcake in the entire world we would want it to be Robert Lambert's White Fruitcake, made from his grandmother's original recipe. And, we guarantee that you will want it all to yourself. 
These loaves are packed full of Robert's exotic candied fruit and local nuts, wrapped in cheesecloth and soaked in French Cognac. The combination of white raisins, dried pineapple, glacéed cherries, coconut, orange juice, Brazil nuts, almonds, walnuts, pecans, candied ginger, candied Lisbon lemon, blood orange, bergamot, Buddha's hand citron and Rangpur limes makes this truly the fruitcake among fruitcakes.
Beautifully wrapped and garnished, this cake makes the ultimate hostess or host gift. Robert suggests serving the fruitcake slightly chilled, cutting into thin slices that resemble stained glass. We like to pair it with a glass of port after a meal.
About the producer
Robert Lambert is many things: Former aspiring rock star, champion of heritage fruits and preserves icon whose marmalades, jellies and jams have garnered a devoted following since the late 1990s. Combining the best fruits harvested from small orchards with fragrant botanicals and, often, fine wine, he coaxes out intense and balanced fruit flavors. This handmade, labor-intensive method yields small batches, but with an unparalleled quality that has captivated Lambert's fans, ourselves included.
Read more about Robert Lambert here.
More Info
Producer
Country

United States
Region

Kewaunee, Wisconsin
Size

16 ounces (453 grams)